Kerri Burns makes a new friend in the aftermath of Hurricane Karl. (PHOTO: Kerri Burns)
Kerri Burns has made a career of protecting animals under the harshest conditions.
Before arriving in Tucson, Kerri Burns successfully managed Animal Emergency Services Programs for the National Animal Welfare Organization, assisting animals through the nation's greatest animal disaster when Hurricane Katrina struck the Gulf Coast in 2005.
She then used this on-the-ground experience to work with FEMA to incorporate animal care in disaster preparedness plans. Burns also assisted with the rescue and rehabilitation of devastated wildlife during the recent BP Oil Spill, helped displaced pets during the Rodeo-Chediski Fire, and was involved with the largest pit bull fighting bust in U.S. history.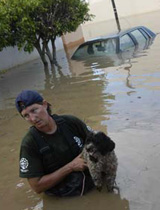 Kerri in mid-rescue following Hurricane Gustav. (PHOTO: Kerri Burns)
Now, in her new position as vice-president of the Humane Society of Southern Arizona the braver of multiple hurricanes - and former Tempe, Ariz. police officer - is putting her daring and her understanding of animal welfare issues to work for Tucson's animals, looking for new innovations that will help raise funds and provide a better quality of life for the creatures in her charge.
She's also passing on what she knows. Burns has created curriculum and taught on a variety of important animal sheltering topics, including animal behavior, grant writing and disaster preparedness, earning her the Dennis White Award for Instructor of the Year in 2005, an honor bestowed by the American Humane Association.
Our state's economic recession has had a big impact on organizations like The Humane Society of Southern Arizona. They now have to work harder to find the funding they need to deal with the ever-growing population of stray, abandoned, and abused animals. (VIDEO: AZPM)