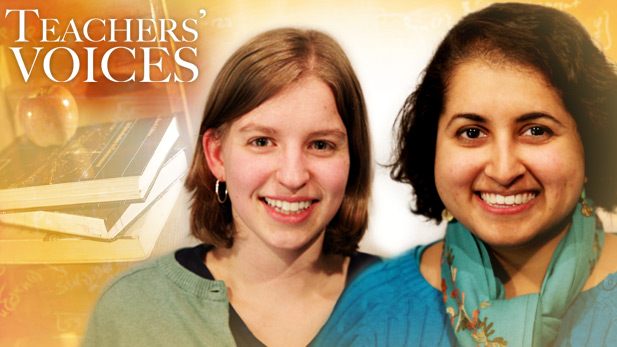 Rebecca Stockbridge (left) and Priya Prasad (right), both are U of A mathematics graduate students and the organizers of Sonya Kovalevsky Day.
The history of women and mathematics has not always been one of inclusion.
And the tale of Sonya Kovalevsky is one example of that.
Born in Russia during the late 1800s, Sonya was not allowed to fulfill her promising talents as a mathematician because women were not allowed to attend universities. But in order to study abroad she needed written permission from her father or husband.
So, she took matters into her own hands.
She arranged a "fictitious" marriage, moved to Germany, and became the first female in Europe to earn a doctorate in mathematics, summa cum laude, and then the first female to receive a full-professorship.
Now more than a century later, her life's work will be celebrated with a new generation of female mathematicians, as they attend Sonya Kovalevksy Day at the U of A. Through hands-on workshops, over 50 high school girls will get a chance to experience the fun-side of math.
On this week's Teachers' Voices, we'll hear from Priya Prasad and Rebecca Stockbridge, two UA mathematics grad students and the organizers of Sonya Kovalevsky Day as they discuss some of the issues that face women in math, today.

To hear more stories, visit the Teachers' Voices archive.
(Funding for the production of Teachers' Voices is provided by Wells Fargo and the University of Arizona College of Education. The series is produced by Matt Felix for Arizona Spotlight.)