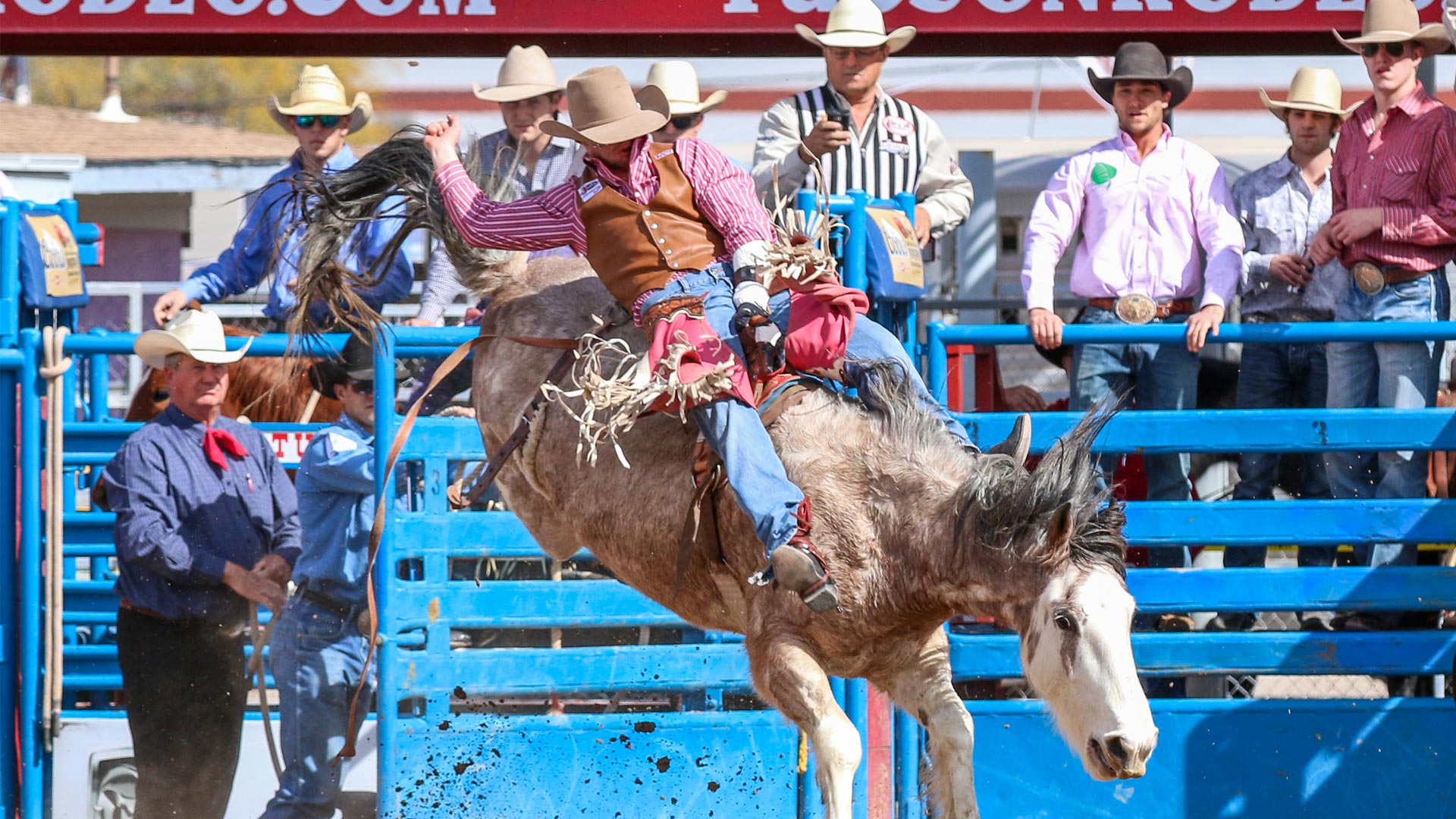 Bareback Rider at the Tucson Rodeo
Jennifer Vimmerstedt, courtesy of Tucson Rodeo
Tucson's largest school district will ask the public if it should change the term "rodeo days" in its school calendar after a local activist group suggested the original name glorifies abusive practices towards animals.
The term refers to a two-day break from classes that TUSD schools take for the Tucson Rodeo. At Tuesday night's governing board meeting, a motion to change the term failed after board president Michael Hicks suggested the school board gauge the community's response first.
A new motion, filed by board member Kristel Ann Foster, directs TUSD staff to produce a survey with local media outlets to see if the community wants to keep or change the name of "rodeo days" to either "Old Pueblo days" or "Tucson heritage days."
"I applaud the governing board for soliciting input before any action is taken," said Gary Williams, general manager for La Fiesta de Los Vaqueros.
The Tucson Rodeo — or La Fiesta de Los Vaqueros (Celebration of the Cowboys) — has been a staple in the Old Pueblo dating back to 1925. The celebration includes nine days of events, competitions and is in the top 25 professional rodeos in North America.
One day is designated to a parade that is still registered as the world's longest nonmotorized parade.
"When the rodeo started in 1925 it went beyond a school holiday. It was declared a general holiday in Tucson," Williams said.
Williams joined the committee in 1987 as a cowboy in competition and then became the general manager in 1995.
"To me it seems like a lack of understanding of our past and a lack of concern for our past," he said.

If the name comes off offensive to the community, Williams suggested changing it to its formal name, La Fiesta de Los Vaqueros.
"Any time you make a change to something that's got a 94-year history you might want to think deeply about it. It's not a decision that should be made lightly," Williams said.
The Tucson Rodeo, and hundreds of others around the country, are sanctioned by the Professional Rodeo Cowboys Association, which lays out very strict and precise rules regarding the care and treatment of livestock, Williams said.