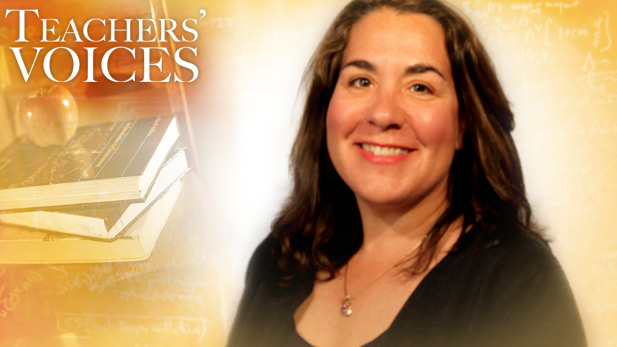 Lisa Ferko, the parent of a third-grader at Harelson Elementary School and one of the co-founders of the Arizona Education Network.
The Arizona State Legislature has eliminated $1.4 billion in education funding over the past three years.
And on March 31st, Gov. Jan Brewer and Republican legislative leaders agreed to cut funding to public schools by $183 million and to state universities by $198 million.
News that has alarmed educators, students, their parents, and even the business community.
On this week's Teachers' Voices, listen to a commentary (recorded the day before the negotiated deal) by Lisa Ferko, the parent of a third grader at Harelson Elementary in the Amphi School District.
In 2009, Lisa, along with several other concerned parents, co-founded the Arizona Education Network, a non-partisan coalition dedicated to providing accurate and up-to-date information about the public schools in our state and offering guidance for parents on how to take action.
Here is a transcript:
These cuts are not sustainable and will inflict untold harm to our state's economy.
If the Legislature enacts the proposed cuts to education, we will see immediate, short-term economic hits: more jobs lost, more homes foreclosed, more schools shut down and drops in property values.
Our state can't afford these short-term losses. But the long-term costs are even more alarming:
the inability to produce an educated workforce;

difficulty in recruiting new businesses with high-paying jobs whose employees demand well-funded schools for their children;

the bankrupting social and economic costs of an undereducated population more likely to end up in prison and on welfare;

and, the overall failure of our state to pull out of the recession.
Some leaders may have the misimpression that cuts can be made to K-12 education without harming the classroom.

As parents with children in the public school system, we can attest to the fact that cuts over the last three fiscal years have already harmed our students.
School districts have already removed any nonessential, non-classroom expenses:

class sizes are much larger;

all-day kindergarten is gone (except in schools charging tuition or with federal funds to pay for it);

many elementary school libraries have closed their doors;

and, several schools across the state have already been shut down.
For the past decade, Arizona has ranked at the bottom of all national measurements of per-student funding. Expecting schools to find another $260 million to remove from their budgets without damaging classroom instruction is completely illogical and unrealistic.
We have cut past any remaining layer of fat.
We have cut past the bone.

Now, we are cutting into the heart of our educational institutions.
On March 17, the Arizona Senate voted down five pieces of immigration legislation after 60 CEOs said it would damage the state's economy. While many believe that legislators have been ignoring public education supporters, they do appear to be listening to the business community.
Business and community leaders must convince the Legislature that de-funding schools is not only bad for children and young adults, it is devastating for Arizona's business climate.
Our legislators have options, the Arizona Department of Revenue has identified $10 billion in tax loopholes. Just closing a few of those loopholes would prevent these deep cuts.
As adults, we benefited from a well-funded public education system, which allowed many of us to reach our full potential. A system funded even during difficult economic times. This generation of students deserves the same level of investment the rest of us received.

For more information on the Arizona Education Network, please follow this link to their website:
To hear more stories, visit the Teachers' Voices archive.
(Funding for the production of Teachers' Voices is provided by Wells Fargo and the University of Arizona College of Education. The series is produced by Matt Felix for Arizona Spotlight.)