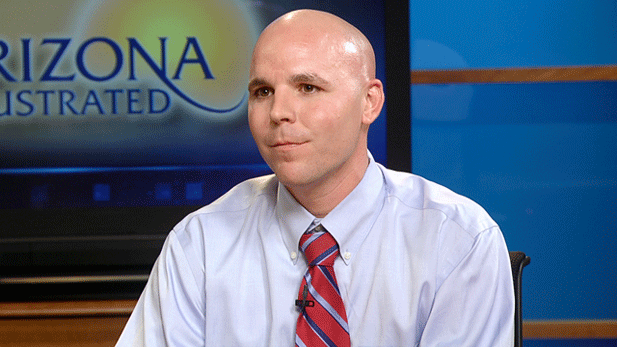 PHOTO: AZPM
Keith Boesen, Pharm.D., Director of AZ Poison and Drug Info Center, discusses the impact of possible budget cuts.
The debate in Washington is still far from decided, but 57 poison control and information centers across the country are anxiously waiting to find out if their federal funding will soon cease.
There is currently a proposed $27 million dollar cutback being debated in Congress, and in the case of the Arizona Poison Control and Information Center, federal money accounts for about 15 percent of their total budget.
The American Association of Poison Control Centers describes itself as a non-profit, national organization founded in 1958 that represents the poison control centers of the U.S. and the interests of poisoning prevention and treatment.
The AAPCC helped to establish the first nationwide 800 number to help anyone with poison or drug reaction questions, 1-800-222-1222. Callers to that number are then re-directed to their nearest local Poison Control, a system that Dr. Keith Boesen, the managing director of the University of Arizona College of Pharmacy's Arizona Poison and Drug Information Center, says works very well.
If the proposed federal cutback occurs, many local Poison Controls will vanish, unable to stay financially afloat. Boesen is concerned that this will cripple the kind of fast, informed response that callers can currently expect from Arizona's call center, which is staffed 24/7 by licensed pharmacists with special training in toxicology.
With nowhere else to turn, studies say that those callers will instead become emergency room patients, which can cause much greater delays in their receiving proper medical treatment.
The question remains: will eliminating an ounce of poison control prevention require more than a pound of cure?
Listen to the story: