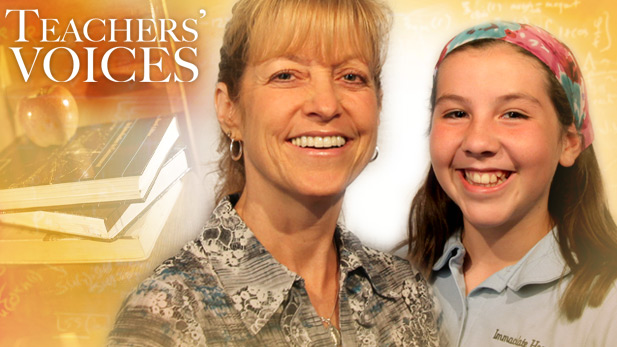 Mary Phillips (left), a 5th and 6th grade teacher at Immaculate Heart School, with her 5th grade student, Karagan Knowles (right).
This week's guests prove just how thin the line is between sorrow and inspiration.
That spark of inspiration came to Mary Phillips, a language arts teacher at Immaculate Heart school, when she heard about the Susan G. Komen of Southern Arizona Essay Writing Contest. Mrs. Phillips' mother and three sisters have all battled with breast cancer and in 2008, Mary's sister, Elizabeth Routson, lost her life to the disease.

Mary knew the contest would be a perfect opportunity for her students to show that adults aren't the only ones who deal with the consequences of cancer. Students are just as aware and perceptive to the pain this disease leaves behind.
This was proven by this year's essay contest winner, Karagan Knowles, one of Mrs. Phillips' 5th grade students.
Karagan chose to write an essay about her mother's childhood friend, Kathy, who lost her battle with breast cancer in 2000. Although, Karagan was just a toddler when Kathy died, it's clear that Kathy left behind a legacy that will never be forgotten.
Karagan and Mrs. Phillips will both be riding in the pace car at the 13th annual Susan G. Komen Race for the Cure, happening this Sunday, April 10th.
To hear more stories, visit the Teachers' Voices archive.
(Funding for the production of Teachers' Voices is provided by Wells Fargo and the University of Arizona College of Education. The series is produced by Matt Felix for Arizona Spotlight.)