J.J. Brost is the New Science and Operations Officer at the National Weather Service's Tucson bureau. But despite being a newcomer to Tucson, he's no stranger to desert weather. Brost grew up in the Phoenix area, and says the monsoon is what first piqued his interest in weather. That's led him to forecasting positions with the weather service in some pretty diverse environments, including Eureka, CA and Amarillo, TX.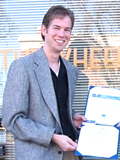 J.J. Brost
The job of the Science and Operations Officer is multi-faceted. They serve as each bureau's senior scientific adviser, oversee the meteorological staff's scientific techniques and ensure all forecasts and warnings issued by the bureau are timely and accurate. They also often act as the bureau's spokesperson and media liason.
Brost joined the Tucson bureau in February. Now that he's settled in, we asked him about his predictions for April. He also gave us an early prognosis for the monsoon, admitting that lingering La Nina conditions make it too early to tell how rainy the season will be.