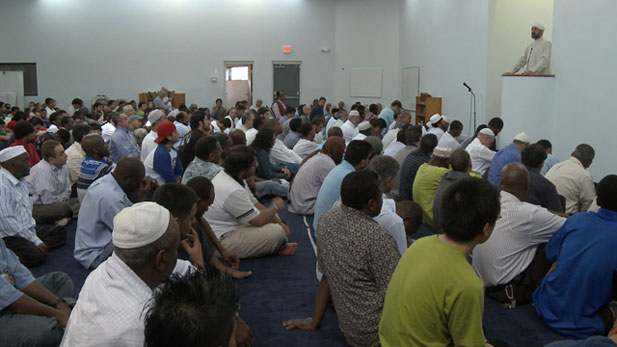 The Muslim community in Tucson is characterized by a broad diversity.

AZPM
Tucson, like many cities around the U.S., is home to a growing community of Muslims. The Islamic Center of Tucson is the main mosque in the city, and regularly attracts up to 700 people. Space during Friday Prayer is often at a premium, and people spill out of the main room into the entryway.

Maqsood Ahmad is chairman of the board of trustees for ICT. He points out that this mosque, built in 1990, is unique because it serves a very diverse community of Muslims. He says historically the Tucson Muslim community has been comprised mainly of students and professors at the University of Arizona, but recently there has been a large influx of refugees from North Africa and Afghanistan.
Imam Watheq Al-Obaidi is the leader of this diverse congregation, and he says he left his role as Imam of the Abu Hanifa Mosque, one of the largest in Baghdad, when he and his family became the victims of terrorism.

"Because I was openly condemning terrorism and al-Qaeda," he says, "my house was bombed, leaving seven of my family members dead. I lost several of my dearly beloved siblings, nephews, and nieces."
Imam Watheq says his experience with terrorism has helped shape him as a spiritual leader, and he points out that although people here have many different backgrounds, he strives to treat all members of this diverse Muslim community equally regardless of origin or race.

"Everybody here is equal, and I represent them," he says. "I guide them to the path of truth, rectitude, friendliness, love, and solidarity."
Muslim-Americans say misconceptions exist about Islam, and erroneous depictions in the media can exacerbate tension within communities.

Maha Nassar is a professor of Near Eastern Studies at the University of Arizona, as well as a member of the Islamic Center of Tucson.

She teaches a history course on Islamic thought, and she says the number of students enrolled has increased steadily in recent years. She says students recognize they are not getting accurate depictions of Muslims in the media, and seek out opportunities to learn about Islam.
The Muslim Community in Tucson is characterized by a broad diversity. We visit the Islamic Center in Tucson. (VIDEO: AZPM)