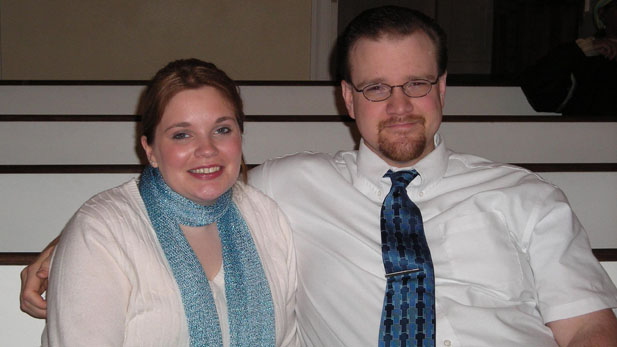 Lumina Hospice patient Courtney Strain and her husband Brock attend church together. Courtney Strain died of brain cancer in June of 2010 at the age of 25, but she left a message behind. (PHOTO: Becky Brooks)
Suzanne Doyle sits quietly thumbing through a stack of books and photo albums she helped create. She's a middle-aged woman with a soft spoken demeanor. Doyle is the founder of Lumina, a program at BJC Palliative Home Care and Hospice in St. Louis, Missouri that helps patients leave statements that go beyond a simple good-bye. Her eyes begin to moisten as she recalls a recent patient, Courtney Strain, who died of brain cancer last summer at the age of 25. In the months before Strain died, she met weekly with Doyle where she revealed one constant frustration. Strain said she felt like an outcast, that people didn't know what to say to her, so they said nothing at all.
"So, I said, you know Courtney, that you could be a teacher," said Doyle. "You know what people, not just your age, but all dying people need. And I wonder if we can't come up with some kind of teaching tool."
The teaching tool they completed together is a simple guide called "What You Can Do When a Friend (like me) Faces the End of Life." And it's Courtney Strain's statement on how to treat the dying. Becky Brooks, Strain's mother, says Lumina gave her daughter a voice at the end of her young life.
"You really need someone outside the scope of family and friends to help you and to be a sounding board," Brooks, said wiping away tears. "And for you to say the things that aren't so nice to hear. That was really empowering for her."
"What You Can Do When a Friend (Like Me) Faces the End of Life"
by Courtney Strain
"Hallmark doesn't fix it all. Write a letter or send an email. [Talk to me when] I'm strong enough to sit and laugh or cry with you...
Don't pretend that everything is going to be OK.
Don't abandon me at my most vulnerable time. Sit and pray with me. Don't just pray for me.
Don't treat me like a child — even a well-loved child. Include me in decisions that affect our family or social group.
Instead of asking, "What can I do for you?" offer some concrete suggestions — like bringing a meal or treat, or running errands.
Respect my decisions about my health care — my doctors, my medications and my treatments — and about my end-of-life plans.
Just because I'm dying doesn't mean I'm any less capable of being your friend.

Dying isn't my whole identity."
This story was produced for St. Louis Public Radio by Julie Bierach and Kelsey Proud.