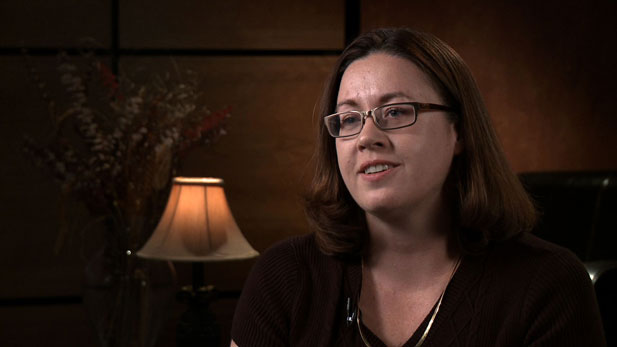 Political communications expert Kate Kenski examines the peculiarities of Arizona's current political landscape. (PHOTO: AZPM)
Arizona's political scenario--including anti-immigration and "birther" proposals, a Legislature led by Tea Party leanings and unofficial moves toward secession--has brought national attention to the Grand Canyon State. But it may only have been the warmup for 2012.
Next year will see wide-open races for U.S. Senate, possibly four of the state's congressional seats and perhaps an assertive re-election campaign by President Barack Obama.
It's all because three-term Republican Sen. Jon Kyl will retire, three-term Democratic U.S. Rep. Gabrielle Giffords' future is unknown, and the specter of redistricting, which will add a ninth congressional seat and significantly alter the boundaries of the eight existing districts, looms large. Additionally, Obama won't have to face an Arizona favorite son, as he did in 2008 in Sen. John McCain.
A political dynamic from that combination of factors has already begun taking shape, with would-be candidates posturing and trying to figure out which way to turn.
"This year Arizona is going to be spotlighted by political pundits and candidates at every level nationally and in different states, as we look at the 2012 season," political consultant Carol Zimmerman said in an interview for Arizona Week. "We can't separate the climate of politics, from the presidential level on down, from the tragedy that happened here on Jan. 8."
Zimmerman, who is a partner in Zimmerman Public Affairs, a Tucson consultancy, was referring to the shooting rampage in which six were killed and 13 wounded, including Giffords, who is in rehabilitation in Houston.
She said political aspirants will try connecting to the tragedy, use it to call out their opponents in demanding civility and call on it as a uniting point for the state and, logically, for their candidacies.
The race for the Senate presents a "rare opportunity" for both Democrats and Republicans, because the state will have an open Senate seat for the first time since 1994, Zimmerman said. U.S. Rep. Jeff Flake has already declared his candidacy as a Republican, but Democrats are waiting for word from Giffords. A long delay could hurt their chances, Zimmerman said.
That politicians, political junkies and the media are already focusing on politics in a big way so early -- the election is 19 months away -- could lead to burnout, another political communication specialist said.
"I think voters tend to get tired when we seem like we're in a never-ending campaign cycle," Kate Kenski said in an interview for Friday's Arizona Week. Kenski is a professor of communication at the University of Arizona, specializing in political communication, voter behavior and the media's involvement.
"I know there's that tendency to want to speculate about what's going to happen," Kenski said. "From a news consumer's perspective, I'm not sure that's particularly useful, because it's nothing more than banter. It's just speculation."
Nevertheless, Giffords' situation especially has led to media and public speculation. Her staff insists that the entire focus is on her recovery from a gunshot wound to the head. But to her supporters, who have already donated over $300,000 to her re-election campaign, the focus appears to be the future.
Reporter Michael Chihak further explores Arizona's unique political dynamics in the April 15 issue of Arizona Week. Click to watch it now.
We discuss Arizona's unique position heading into the 2012 election cycle. (VIDEO: AZPM)