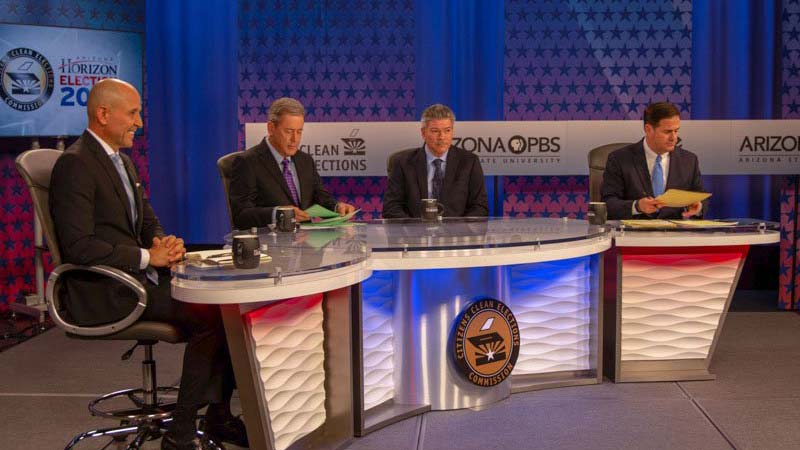 A scene from Monday night's debate among candidates for governor. From left, Democrat David Garcia, moderator Ted Simons, Green Party candidate Angel Torres and Republican Doug Ducey.

Lauren Intrieri, Cronkite News
Candidates for Arizona's highest office faced off in an hour-long televised debate in Phoenix Monday night. Education was the main topic.
Republican Gov. Doug Ducey and Democratic challenger David Garcia came well-prepared to do battle over school funding and teacher salaries. Mr. Garcia touted his support for last spring's #RedforEd movement, which led to a teacher walkout. Ducey defended his plan to give teachers a 20 percent raise over three years, which brought the teachers back to work.
The two clashed on the topic several times, such as this exchange midway through the debate:
"With respect to teachers, for 75,000 of them, and they're asking to sign a Red for Ed pledge if you stand with them. I have signed it, and if you were on their side then have you signed it? And would you be willing to sign?" Garcia said.
"No. What I've signed is a budget that will deliver them a 20 percent pay increase. I don't sign activist pledges. I sign state budgets," Ducey said.
---
WATCH LIVE: The candidates for Arizona governor are facing off in Tucson, Tuesday at 7 p.m.
---
Green Party Candidate Angel Torres mostly stayed on the sidelines, except when prompted to join in. He mainly promoted increased union involvement for state workers.
"My plan is to strengthen the economy, get more workers organized into the union of their choice," Torres said.
Tuesday night Garcia and Ducey will go at it again, this time in Tucson. Their hour-long debate starts at 7 p.m. on NPR 89.1 and PBS 6, and will be livestreamed on the AZPM website and Facebook account.

Read more coverage of national, Arizona, and local elections at our 2018 elections portal,
Your Vote 2018
.