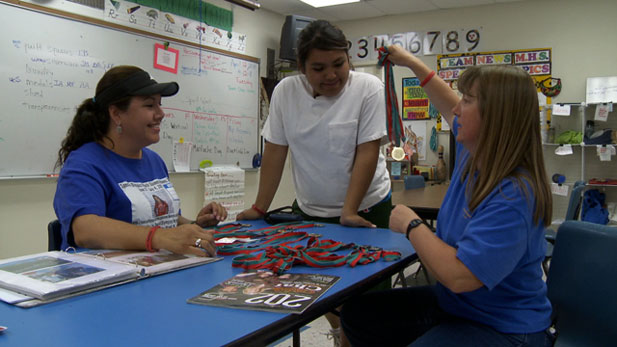 PHOTO: AZPM
Itzel Apodaca (center) is one of only five students from Arizona who will be going to the Special Olympics in Greece this summer.
Itzel Apodaca is a training twice a day for the chance to participate in the trip of a lifetime. She's been selected to attend the Special Olympics in Greece this summer with four other teammates from Arizona.
Apodaca attends Marana High School, where she was encouraged to join the Special Olympics organization about three years ago. She's been excelling in sports ever since, but now she's getting ready to participate in three events in Greece.

"I want to do three gold medals, " she says with a big smile.
Teacher and coach Susan Sharkey says Itzel and other students like her can serve as inspirations to all of us. Many are judged by their limitations or disabilities, but if given support and opportunities, they can excel in different areas. That's why Sharkey is a very big fan of Special Olympics.
"It really is about what they can do," Sharkey says. "It offers athletes opportunities that they don't get anywhere else. It started in the 80s, when there were no services for the adults, and now we go and these kids have grown up on sports teams since they were little. It's just one of the most wonderful programs."
And Apodaca's mother agrees. She says her daughter has improved significantly since becoming active in sports, and serves as a great example for many other people by being committed to her activities and winning multiple medals.
Friends and family members are raising funds to pay for Apodaca's journey to Greece, which begins in June. Apodaca says she hopes to come back a champion with medals to honor her supporters and loved ones.
"I want to win for my family and my teachers, my mom and my dad. And everybody," she says.