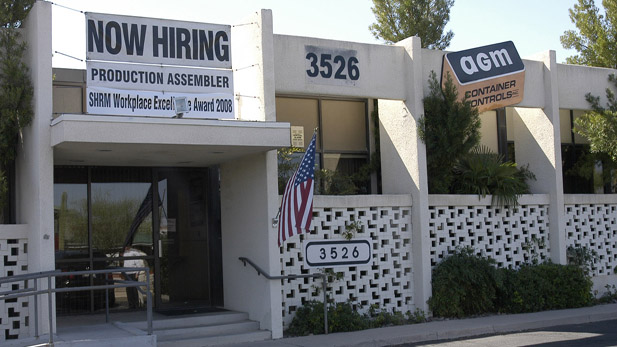 PHOTO: AGM Container Controls, Inc.
AGM Container Controls, Inc. has managed 20 years of growth thanks to resourcefulness and careful expansion.
It would surprise many Tucsonans to know that a family-run company located on East Fort Lowell handles more military contracts every year than Raytheon Missile Systems.
AGM Container Control, Inc. is one of the city's successful secrets, a company powered by 105 employees that has maintained steady growth even during the recession, thanks to resourcefulness and carefully planned expansion.
AGM CEO and president Howard N. Stewart has a lot to talk about when promoting his company's accomplishments. For six decades, AGM has been a leader in the design and fabrication of products that control and monitor moisture (like desiccators and humidity indicators), pressure and vacuum changes (breather valves) and shock and vibration (shock overload indicators and tie-down shelving).
These products are used for a variety of applications in defense, aerospace, electronics, industrial, and commercial markets to protect and extend the life of critical equipment.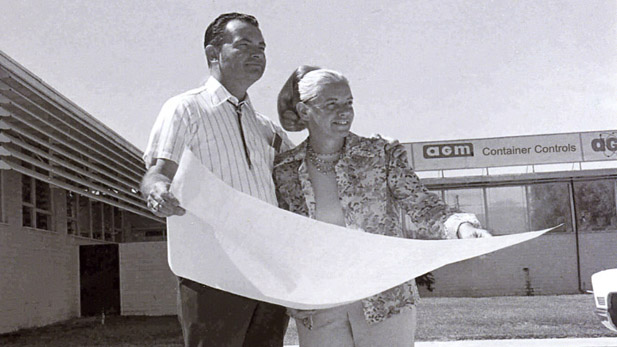 PHOTO: AGM Container Controls, Inc.
Roger and Joyce Stewart, the parents of current AGM CEO Howard Stewart, circa 1970.
AGM has completed numerous contracts for the U.S. Army, Navy, Air Force, and NASA. Along the way, it's garnered many awards from the Defense Department and major aerospace companies, including a Best Value Gold Medal from Defense Supply Center Richmond for nine consecutive years (2001 - 2009).
Watch the story:
AGM manufactures shelving that is frequently used in ships, and is attributed with saving the lives of numerous sailors by securing equipment that could become deadly projectiles if the vessel is hit by a torpedo or missile. In order to test products like AGM's tie-down shelving units, the U.S. Navy subjects them to repeated impacts from powerful industrial hammers. AGM's shelving passed the test, as this youtube video demonstrates: