The Overpass Cafe has been serving breakfast and lunch on Miracle Mile since 1946.

Laura Markowitz
Almost a century ago, the short strip of road called Miracle Mile was the northern gateway to Tucson. Before the interstate highway system was built, the divided highway (a "miracle mile of safety") was Arizona Route 84. It connected with Oracle Road, U.S. 89, which stretched from Mexico to Canada, and U.S. 80, which connected San Diego and Florida.
The historic Miracle Mile starts at I-10, takes a jog south on Oracle and zee's east onto Drachman. By the 1950s, visitors driving down Miracle Mile were treated to a festive strip of charming motels with swimming pools, lush courtyards, palm trees and bright, neon signs.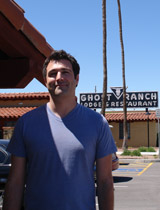 Demion Clinco, Tucson Historical Preservation Society (PHOTO: Laura Markowitz)
"It was Tucson's own Route 66, with all of that wonderful roadside vernacular architecture," says Demion Clinco, president of The Tucson Historic Preservation Foundation.
Many of those original motels still exist. But for the last 40 years, Miracle Mile has been notorious for prostitution, drugs and crime. Today, Miracle Mile is beginning to show signs of a renaissance.
The West Side Police Center was constructed on the west end of Miracle Mile, with a state-of-the-art crime lab soon to be completed. The Ghost Ranch Lodge, whose sign was designed by artist Georgia O'Keefe, is now affordable senior housing. The Wayward Lodge was turned into housing for homeless women and children, thanks to the Gospel Rescue Mission. And by summer, the renovated casitas of the Monterey Motel will become artists' studios.
Miracle Manor Neighborhood Association president Oscar Bojorquez credits Ward 3 Councilwoman Karen Uhlich with turning Miracle Mile around.
"She helped us organize our neighborhood and listened to what we were concerned about, and helped us find resources to bring in the right kinds of businesses to Miracle Mile," he says.
There is still a long way to go, he adds. Crime, drugs and prostitution haven't been eradicated--yet.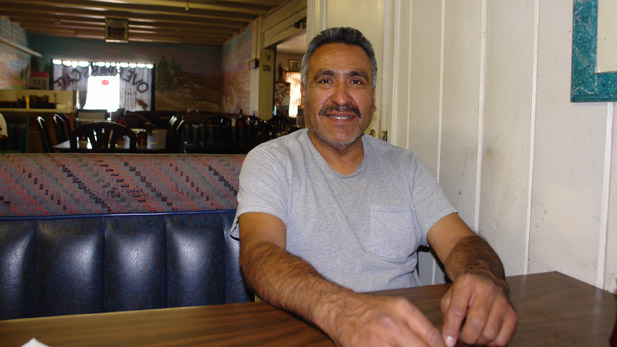 Oscar Bojorquez, Miracle Manor Neighborhood Association President

Laura Markowitz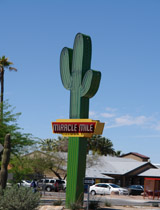 Neon sculpture by Dirk Arnold on Oracle at Drachman (PHOTO: Laura Markowitz)
The Tucson Historic Preservation Foundation is taking a special interest in the area, especially those old neon signs that used to light up Miracle Mile at night.

"As a historical preservationist, I wanted to make sure the community didn't get rid of what could become a great asset to the city," says Clinco. Through his efforts, the signs—some of which have been in storage for decades—will soon be back up on Miracle Mile from I-10 all the way to Drachman and Stone.
"Preserving this part of our history will drive up tourism and hopefully bring more prosperity to the area," he says.