The City of Tucson last week dedicated its latest solar project: a one-megawatt array of more than 3,400 solar panels at the Central Avra Valley Storage and Recovery Project, about 20 miles west of Interstate 10.
In partnership with Trico Electric Cooperative, Inc. and SunPower Corporation, the solar panels will help provide the electricity needed to operate a good portion of the facility.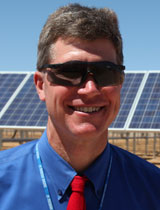 PHOTO: Robert Rappaport
Sandy Elder, Tucson Water Deputy Director
"It takes a lot of energy to move that water around," says Tucson Water Deputy Director Sandy Elder. "It's really important for redundancy and reliability to have multiple power sources. Flexibility gets us that reliability."
"The electric load here is five megawatts…we use to get the water into town. So, this is one-fifth, 20 percent, of what we're delivering to our customers," he says.
Trico CEO Vincent Nitido says the solar project is definitely the company's largest project.

"We're a relatively small enterprise. The addition of the output of this project to our system makes us the leading provider of solar energy among co-ops in Arizona," says Nitido. "We have the highest amount of solar energy, per member, of the seven cooperatives in Arizona."
The solar panels track, meaning they move with the sun. That is not the case at other facilities around town, such as those at Davis Monthan Air Force base, says Tucson City Councilwoman Shirley Scott, who attended the dedication ceremony.
Earlier this month, Pima County dedicated three new solar projects, bringing the county's number of solar facilities to five. They are located at the Ina Road Wastewater Reclamation Facility, the Herbert K. Abrams Public Health Building on S. Country Club and at the A7 Demonstration Ranch, between the Rincon Mountains and San Pedro River. They join existing solar projects at the Roger Road Wastewater Reclamation Facility and the Sullivan Jackson Employment Center in South Tucson.
Terms of the city and county solar contracts allow the government entities to purchase electricity at current rates for many years to come, eventually saving money for taxpayers.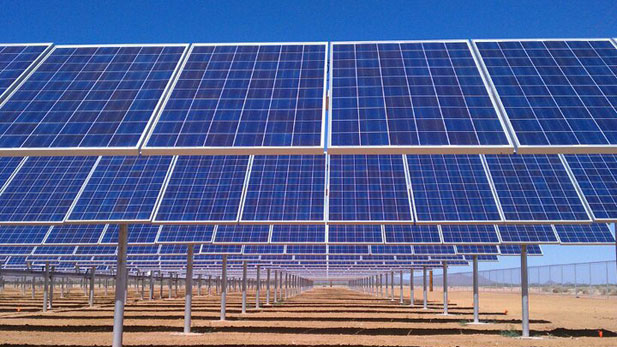 PHOTO: Robert Rappaport
Solar panel array at Tucson Water's Central Avra Valley Storage and Recovery Project