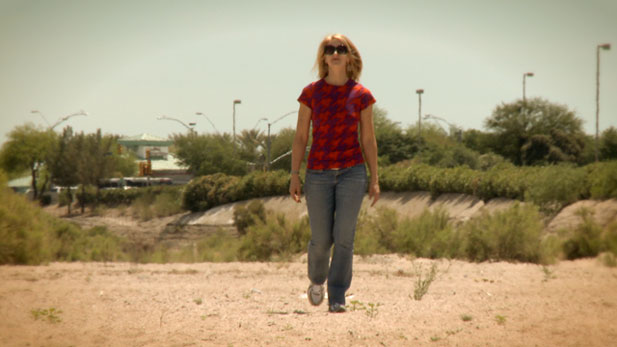 PHOTO: AZPM
One local artist is walking home -- a 2,000-mile trek from the deserts surrounding Tucson to the Great Lakes region.
Meet Laura Milkens. She's a performance artist currently preparing for a 2,000-mile trip -- a trek from Tucson and the desert she now calls home, to her hometown near Grand Rapids, Michigan.

"I thought, 'Maybe I'll just walk home,'" Milkens says.
The walk is part of an art project titled Walking Home: Stories from the Desert to the Great Lakes, and it will be streamed live 24 hours a day. She's inviting people to walk with her along the way and share a story that will be part of the ongoing webcast.
"Anyone can log on at any time to see my point of view," Milkens says. "I think of the camera as a way of bringing people with me, not just by walking with me, but virtually."
On her last walking project, Milkens set out to trek along what is considered to be the longest avenue in the world --Avenida Insurgentes, in Mexico City.
"I thought, 'I'll just walk and anyone I come across I'll ask them to share a story.' Because I like doing things that have to do with simple human intimacy," she says. "I went to Mexico to do that, to trust my neighbors."
Milkens says her new project will take up to four months and is also about trusting neighbors.

"My artwork is about community and connections," she says. "I believe that safety comes from trust, community and collaboration."
Join Laura Milkins live as she makes here way home. Watch live video from lmilkins on Justin.tv