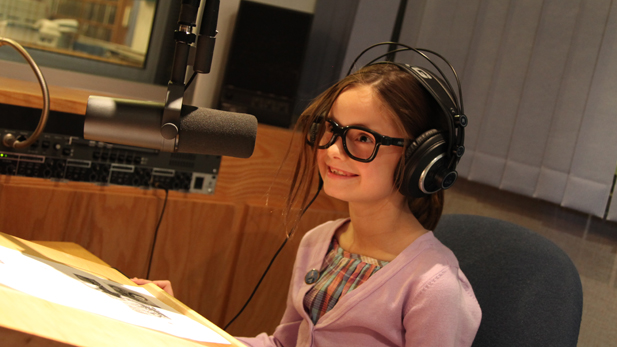 PHOTO: Matt Felix
A future voice of public broadcasting? Young writer Anika F. Burns enjoyed reading her poetry in the KUAZ radio studio.
"My clouds look like
Cotton balls splattered in grey and
Black paint. I am nothing like your
Hot fudge sundae."

— written by Vienne W. (4th grade)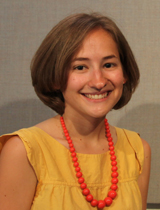 PHOTO: Matt Felix
Youth poetry teacher Allie Leach
Creative writing major and youth poetry teacher Allie Leach says that when you teach a child it's okay to express themselves through any kind of writing, chances are good they will continue that exploration on their own, letting words take them on a journey to places they've never dreamed of.
That concept is behind the University of Arizona Poetry Center's upcoming Young @ Art Festival, a day-long celebration of the freedom and excitement that young minds bring to the arts.
Listen to the story:
The Young @ Art Festival will include food, and activities for all ages, with chalk artists, musicians, puppet shows, and a variety of word-inspired crafts and activities, including bookmaking and haiku improv designed to inspire youth minds. It culminates in a Youth SLAM for high school students kicked off by Patricia Smith, four-time individual National Slam Champion.
The event happens at the University of Arizona Poetry Center from 10 a.m. to 5 p.m. on Saturday, April 30th.
Performances will include a Stories that Soar production based on writing by Poetry Joeys, and a Stories on Stage production of Byrd Baylor's Desert Voices. Festival goers will also have a chance to contribute to Tucson's longest poem.