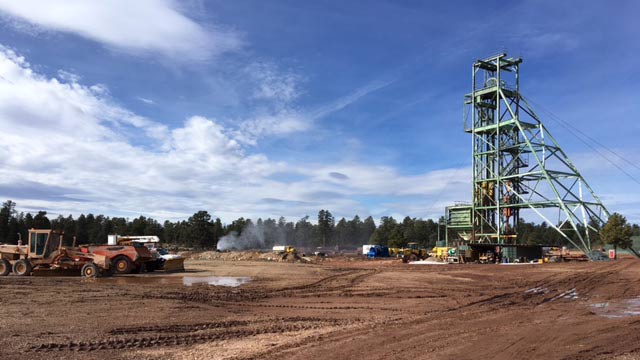 Canyon Mine is one of the few mines allowed to operate despite the moratorium.

Laurel Morales, Fronteras Desk
The 9th Circuit Court of Appeals issued a new opinion in a decades-long battle involving uranium mining on land outside Grand Canyon National Park. But some say the decision may be too late.
In 1988 when the Forest Service first approved the Canyon Mine south of the park, all the proper environmental and historical assessments were done. At the time, the neighboring Red Butte was not on the National Register of Historic Places. Today it is. The Havasupai Tribe considers Red Butte to be sacred.
So the 9th Circuit panel said Canyon Mine should no longer be exempt from the mining ban and sent the case back to District Court.
But Grand Canyon Trust's Amber Reimondo says groundwater may already be contaminated. The recently sunk mine shaft breached an aquifer that now requires constant pumping to remove contaminated water from the mine.
"We hoped this argument could be heard several years ago," Reimondo said. "And it's taken several years of getting unfavorable decisions to now be back on the tracks."
In 2012 the Obama administration banned all new mining claims on land surrounding Grand Canyon National Park. Energy Fuels Resources argued that Canyon Mine should be exempt, because the company had valid and existing rights. So, the Forest Service gave the company permission to mine again.