Every Friday for the past ten years, a man in a priest's Roman collar and clerics limped to the stretch of sidewalk outside the courthouse in Allentown, Pa., and stood there.

When the sun shone, he let it glint off the Purple Heart pinned to his lapel. When it rained, he opened a bicolor umbrella and held it over his white hair. But he never failed to show up and stand in protest of the nation's wars.

Over the decade-long vigil, some in Allentown wondered about Reverend John Clinton Fowler's dedication to his Friday protests, asked him questions, came to know him. There was a mystery about him. But in Tucson, his dedication has long been the stuff of legend.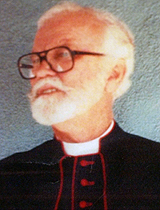 PHOTO: Courtesy of St. Michael and All Angels
"Father Fowler was either loved or hated," says a longtime parishioner.
The longtime leader of Tucson's St. Michael and All Angels Episcopal Church and the founder of its Parish Day School, Fowler regularly made local headlines during the 1950s and 1960s.
Arizona Daily Star photos from the time show Fowler—an early member of the Congress for Racial Equality and the ACLU—picketing for civil rights, farm workers' rights and in protest of the conflict in Vietnam alongside Tucsonans of all races.

He drove as many as a third of his parishioners away by inviting black families to join his church and then shrugged off the loss, telling his friends that his parish wasn't worth having if it wouldn't accommodate blacks.
"He was the most dedicated white civil rights activist in Tucson in the '60s," says Morgan Maxwell, Jr., a prominent Tucson civil rights leader. "He wouldn't hide it. He was a blessing to the movement."
Fowler was born in Douglas, Ariz., but grew up in Tucson and attended the University of Arizona before he was drafted into the Army. During World War II, he served with the 7th Infantry in Germany, where one night on a hill he suffered a wound that required the amputation of his leg. He would live with a wooden leg—and constant pain—for the rest of his life.
Drawn to the priesthood after that experience, he studied at the General Theological Seminary in New York City and then went to work at St. John's Episcopal Church in Bisbee.
In 1953, he returned home to Tucson when he was invited to be the first vicar of a new parish chapel, St. Michael and All Angels Episcopal Church on Wilmot Road. Once he arrived, he immediately went to work changing the fabric of the church's life, and Tucson's.
"He got involved in civil rights right away," recalls Ed Morgan, Tucson's leading civil rights attorney at the time, and a member of Fowler's congregation. "He orchestrated a weekly vigil outside of the downtown post office and federal building, and arranged for members of his parish to join him there one day a week."
Fowler shook things up within the church as well, opening membership to worshippers of all races and calling his congregation to social action through his famously fiery sermons.
"There were parishioners who got up and walked out during his sermons," Morgan remembers. "There were sermons against war, sermons against discrimination—they were beautiful, they were great literature. I begged him to get them printed, but he never did."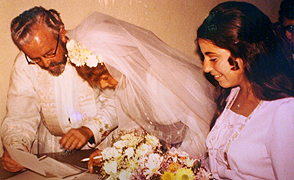 PHOTO: Courtesy of St. Michael and All Angels
Fowler officiates a wedding in 1971.
Displeased with the lack of education and reading ability he saw in parishioners' children, Fowler founded a school as well.

St. Michael's Parish Day School held students to rigorous academic standards, offered an extensive music education that included learning national anthems from around the world—one student recalls, "He said the words were 'baloney' but the music was beautiful"—and welcomed students from all over the city. Thirty-four students enrolled the first year; the school now has 338.
Despite his dedication to helping others, however, Fowler often preferred the company of his dogs to that of people. His closest friends recall a larger-than-life, prickly personality—a man who was impatient with ignorance and minced no words about it.
"He was an arrogant, egotistical man," says Morgan. "I could say more about him, but he's dead."
"He was not a simple man," adds Cornelius Steelink, a chemist and founder of Arizona's ACLU. Although Fowler openly referred to Steelink's family, who are Quakers, as "heathens," he frequently joined them for dinner and debate.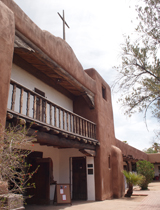 PHOTO: Gisela Telis
Twenty-six years of Fowler's often controversial leadership have left a mark on the parish of St. Michael and All Angels, which now prizes community involvement.
"My wife refused to call him 'Father' and always called him 'Clint,'" Steelink says. "She liked to argue with him, because he was very much against women's liberation. Once she asked him, 'Why do you consider women second-class citizens?' and he said, 'I don't. God does.'"
Fowler retired from St. Michael's in 1986. He bought a riverboat and spent some time traveling the Mississippi River, before settling in the town of Nazareth in eastern Pennsylvania.

Fowler died on March 19 of this year, but his friends and students say his legacy lives on. And at St. Michael's, he looms large: the walls show paintings and photographs of the complicated canon, always in his glasses, frequently with his beloved dog.
"Father Fowler was either loved or hated. There was no in-between," says Frances Hicks, who joined the church in 1960 and has been there ever since. "But I thought the world of him. He did an awful lot of good."

Hear the stories of Ed Morgan, Morgan Maxwell and Cornelius Steelink and learn more about Tucson's fight for civil rights—tune in to Barrios & Barriers: The Tucson Civil Rights Era, an Arizona Public Media original production premiering Monday, May 9 at 9:00 p.m. on PBS-HD.