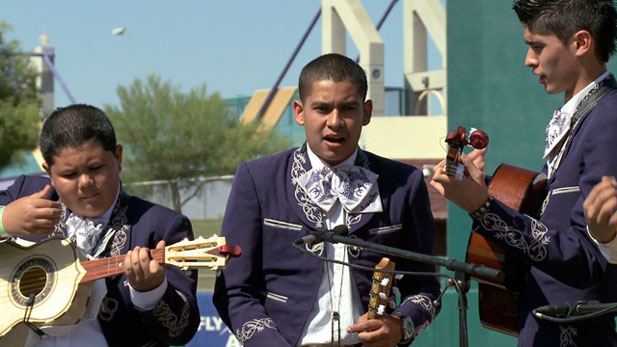 PHOTO: AZPM
For 29 years, the Tucson International Mariachi Conference has preserved and promoted the mariachi tradition.
If there were superstars in the world of mariachi music, Los Camperos de Nati Cano would be among them. This Los Angeles-based, Grammy Award-winning group has been performing for decades and they are known for their polished musicianship.

Jesus "Chuy" Guzman is the musical director of the group, and he's also one of the lead instructors at the Tucson International Mariachi Conference. The day we caught up with him he was leading a few hundred conference attendees through the final preparations for a mass performance.

"What we see here in the rehearsal are all the instruments of the Mariachi," he says.

The instruments include trumpets, guitars, and violins, but Guzman says "what's interesting about this is that we also see the authentic instruments from Mexico like the guitarrón, the vihuela, and the harp."
Guzman says this group performance is an "opportunity to bring together everything that the students have been working on throughout the various workshops."
Enrique Lazanski has a Ph.D. in orchestral conducting, and once ran Tucson's professional Catalina Chamber Orchestra. He says this is his first time attending the Tucson International Mariachi Conference, and he points out that in this time of shrinking education budgets, this event plays an even more important role in educating young musicians.
"I'm just so impressed by the musicianship here," he says, "and by how beautiful the music is."