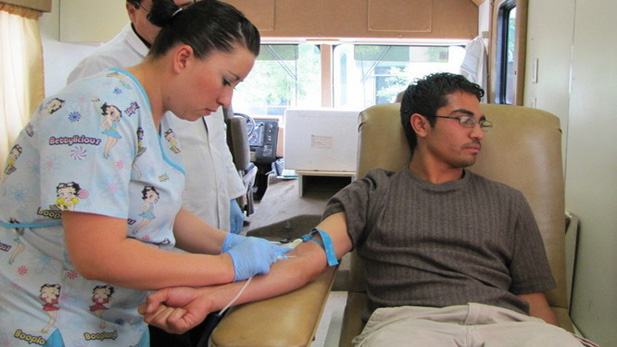 Students at the Instituto Tecnológico de Delicias school in the northern Mexican state of Chihuahua recently donated blood in a truck donated by the non-profit United Blood Services from El Paso, Texas. (PHOTO: Mónica Ortiz Uribe)
EL PASO, TEXAS - Story by Mónica Ortiz Uribe
Blood is in high demand in Mexican hospitals these days.
The terrible drug violence plaguing the country has created an increase in patients with life threatening injuries, like gunshot wounds. Those patients require a lot of blood. But the blood donation system in Mexico is dysfunctional. In many cases, patients or their loved ones are responsible for seeking out their own donors. That can create added stress in what is an already stressful situation.
In extreme cases, patients die because of the lack of blood.
One blood center in the northern city of Chihuahua is trying to reform the system. The center is receiving help from a non-profit blood bank in El Paso called United Blood Services. Leading the effort on the American side is Martin Gomez, a man who has dedicated himself to reforming the Mexican blood bank system because of a devastating experience with his mother.
Seven years ago, during a Fourth of July weekend, Gomez's mother became sick. He took her to a hospital in the Mexican border city of Juarez, where she lived. Doctors determined she was bleeding internally and needed a transfusion. But there was a problem: The hospital didn't have the kind of blood she needed. His mother was O negative, one of the rarest blood types. Hospital staff told Gomez it was up to him to find the blood.
"They told me you go find it," Gomez said. "And I said, 'What do you mean find it? Where?' "
The staff instructed Gomez to call other hospitals. So, he picked up a phone book, went to a pay phone and started dialing every hospital listed. Each individual hospital had a blood bank, but none of them had units of O negative blood.
Gomez became desperate.
He called TV and radio stations imploring them to broadcast a plea asking people with O negative to come donate blood. Only one person came.
So Gomez crossed the border to El Paso and went to United Blood Services, where he finally found the blood his mother needed. Then he had to smuggle it back into Mexico, on foot. After a two week struggle, Gomez's mother died. The experience changed his life.
Now Gomez works for United Blood Services in El Paso, where he is in charge of donor recruitment. It's his way of showing his appreciation for the help they gave him. His mother's name is engraved on a plaque near the entrance to the donation center.
"Because of what happened to her is the reason why I work here," Gomez said.
In the United States, blood is supplied by volunteer donors and managed by non-profit organizations, like United Blood Services, that deliver it to hospitals. But in Mexico, every hospital collects their own blood. When a patient has a pre-scheduled procedure, like surgery, they are required to find donors to replace the amount of blood they will use. In emergencies, patients or their relatives are expected to find replacement donors upon completion of the treatment.
Gomez called it a broken system.
"It's something that I wish one day could stop. That blood is not dependable on people donating last moment," he said.
So Gomez has a personal mission: To help change the system in Mexico. He and the staff at United Blood Services have been working with a blood bank at a hospital in the northern Mexican city of Chihuahua. They work with Dr. Alfonso Avitia, who heads the Chihuahua State Blood Transfusion Center.
"Less than 3 percent of the Mexican population donates blood voluntarily," Avitia said.
Thanks in part to training and equipment donated by Martin Gomez and United Blood Services, the city of Chihuahua now has the highest percentage of volunteer donors in the country: About 28 percent.
On a recent afternoon, Dr. Avitia drove an old Nissan sedan to the small town of Delicias, where his staff had organized an event that is almost unheard of in Mexico: A blood donation campaign.
The event was held outdoors on a university campus. The mood was festive. Students who had just donated sat under tents and socialized while chomping on sandwiches and cookies. Others sat quietly outside the donation truck waiting their turn. Some, like 20-year-old Pablo Gonzalez, were a little nervous.
"I'm going to give some blood to the people who need it," Gonzalez said. "It's my first time."
At the end of the day, 65 students donated blood. That makde Dr. Avitia proud. He said volunteer blood is seven times safer than blood from family and friends.
"Replacement blood is compromised blood," he said. "You are more likely to get a person whose blood is not suitable for donation."
Moreover, under the replacement system, hospitals tend to have only as much blood as they use. There is rarely any excess blood left over for emergencies. With all the drug-related violence going on in Chihuahua, Avitia said they have had to increase their stock by about 15 percent. Reforming the donation system now is more important than ever.
"The community must realize that they are responsible for providing their own blood supply," Avitia said.
His goal is to create a regional blood bank supplied by volunteer donors across the state. There has been progress. The exception is Ciudad Juarez, the largest and most violent city in the state.
Hospitals in Juarez have yet to agree on a unification plan. Meanwhile, blood banks struggle to keep up their supplies. One blood bank administrator at a major Juarez hospital said their supply was running dangerously low this week, just as the city enters the busy Easter holiday.
Listen: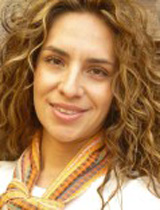 Mónica Ortiz Uribe
Fronteras reporter Mónica Ortiz Uribe is a native of El Paso, Texas where she worked as a freelance reporter. Her work has aired on NPR, Public Radio International and Radio Bilingue. Most of her stories examined the effects of drug-related violence across the border in Ciudad Juarez. Previously, she worked as a reporter for the Waco Tribune Herald in Waco, Texas. Mónica graduated with honors from the University of Texas at El Paso in 2005 with a degree in history. On weekends, you may catch her face-painting at festivals and parties, a hobby she's maintained since high school. She also loves to travel. Mónica has lived in France and Mexico and traveled as far away as Thailand and Latvia.