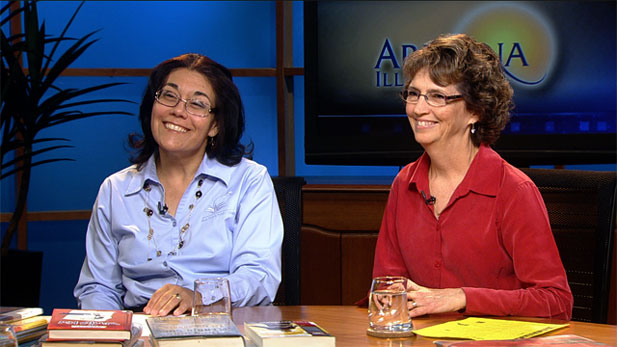 PHOTO: AZPM
The Pima County Public Library's Steffannie Koeneman and Mary Sanchez discuss summer opportunities in the system.
Despite the cool reprieve this week, temperatures will soon climb to their summer highs and Tucsonans will dive for the indoors and frosty air conditioning.

Steffannie Koeneman and Mary Sanchez of the Pima County Public Library join Arizona Illustrated to share what's cooking in the county's library system--an educational place to hide out from the heat. Summer activities include a kid's summer reading program and a Harry Potter party at the Hotel Congress.
They also discuss the recession's impact on the library system. In this poor economy, libraries have seen their business boom, and not just in books: job training, computer access, and grant writing workshops all receive heavy attendance, largely because all are free of cost there.