Note: This is part four of a five-part series airing this week, courtesy of the Fronteras Project
The cartels make billions of dollars on the drug trade. But they have to work out complicated schemes to get those dollars they make from addicts in the U.S. back into Mexico and convert them into usable pesos.
It's a lot of money. And money can overcome lots of challenges.
A recent investigation by U.S. authorities found that between 2004 and 2007, one large U.S. bank allowed nearly $500 billion of drug money to be wired through its systems, no questions asked.
Many of the wire transfers ended up in Culiacán, Sinaloa, the place to go to cash out American greenbacks for pesos in Mexico's organized crime capital. It is a violent city along the Pacific Coast with a long history of drug trafficking.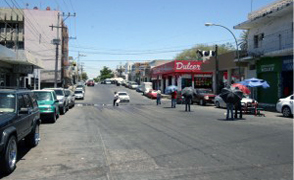 PHOTO: Michel Marizco
Parasols line the street in El Mercadito - the Little Market - a neighborhood in Sinaloa, Mexico where people cash out U.S. dollars for Mexican pesos and avoid reporting transactions to authorities.
Parasols line the streets of "El Mercadito," the little market. The setup is the same at nearly every parasol. A woman sits in its shade, surrounded by two or three young, well-built men.
A car approaches. Somebody was paid in American dollars and needs to convert that to Mexican pesos but doesn't want to report where the money came from. A negotiation. Then the cash transaction and money exchangers simply walks the dollars over to the money exchange house – "casas de cambio" – and cashes it out. The money exchange houses have reporting limits. So, if it's too much cash, and it often is, the money is divided up among more people to cash out.
One of the money exchangers speaks freely, his partners walking away when this reporter approaches. He said he has no idea where the money came from. He knows it started in the United States, but doesn't know how it got to this street in Culiacán.
The money exchanger said business was slow. There are some days here where he alone changes out $10,000 to $20,000, he said. There's at least ten parasol stations on this block. And there's enough work for everyone, he said.

PHOTO: Michel Marizco
A money changer waits for customers in El Mercadito - the Little Market - a neighborhood in Sinaloa, Mexico where people exchange U.S. dollars for Mexican pesos. She charges 10 percent to convert the money and avoid money laundering laws.
The cash exchanged on this street is small time. They are mostly used by farmers and low-level cartel workers. But it converts U.S. dollars into Mexican pesos so it can be used in the local economy.
The big money transfers – billions and billions of dollars – involve the money exchange houses and big banks in the United States.
The biggest money laundering case has been that of North Carolina-based Wachovia Bank. Investigators found that the bank had allowed $378 billion to flow unhindered from "casas de cambio" right into its bank accounts in the United States.
Read the accusations made against Wachovia by federal authorities: View at Google Docs | Download File
Michael McDonald is a retired IRS investigator. He laid the groundwork for much of the organized crime and bank investigations done today. Now he's an anti-money laundering specialist who works with banks.
"The value of those currency deposits exceeded normal transaction activity from these accounts. At that point, Wachovia, and any other institution, must be diligent, must pick up on those spikes and must answer the simple question of what's causing this," McDonald said. "And it appears Wachovia never followed up on that."
The way the money was laundered was fairly simple: The drug traffickers used the Mexican "casas de cambio" as their middlemen. The money was smuggled into Mexico and deposited into the houses. Then, when the traffickers needed to buy items in the United States, the money house would transfer the funds into their own accounts at Wachovia.
Criminal proceedings were brought against Wachovia but nobody was ever arrested. Instead, Wachovia paid a fine: $160 million. Or, about 5 percent of the money laundered.
Read how the accusations against Wachovia were settled: View at Google Docs | Download File
"This was an outrageous situation and I'm surprised that there were no criminal prosecutions in this case," McDonald said.
Wells Fargo bought Wachovia in 2008. Executives declined to comment, but released a statement saying they've spent $40 million in the past four years to keep their banks compliant with anti-money laundering laws.
The "casas de cambio" here have a long history of shady dealings.
Elmer Mendoza, a crime novelist in Culiacán, said the black market for money has been a part of the city since the opium days in the 1940′s.
Authorities said the Wachovia case is not the end of their work. There are other cases against other banks pending. The U.S. branch of London-based HSBC Holdings is now under investigation for the same types of dealings with money exchange houses.