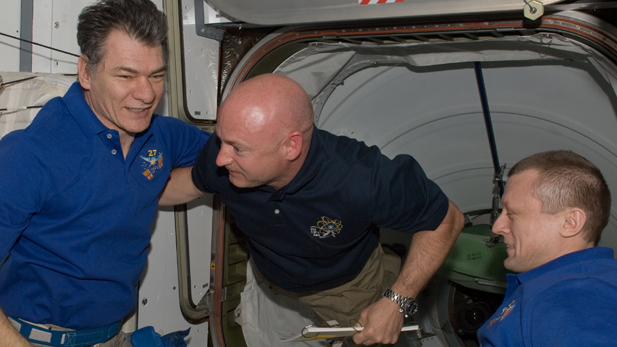 Endeavour Commander Mark Kelly (center) greets two members of the Expedition 27 crew shortly after docking with the International Space Station. (PHOTO: Courtesy of the NASA archives)
Astronaut and Navy Captain Mark Kelly has plenty to juggle. Not only is he currently at the International Space Station working to finish that high-flying construction project, but he is also helping his wife, Congresswoman Gabrielle Giffords, in her recovery from the January 8th assassination attempt that killed six and left 13 wounded.

AZPM reporter Christopher Conover spoke with Kelly about his many roles and responsibilities, his daily talks with Giffords and his plans for the future. The one thing the shuttle commander did not want to talk about was the ruling that January 8th shooting suspect Jared Loughner is incompetent to stand trial.

Click to watch this AZPM exclusive:
Christopher Conover interviews Mark Kelly from the International Space Station. (VIDEO: AZPM)