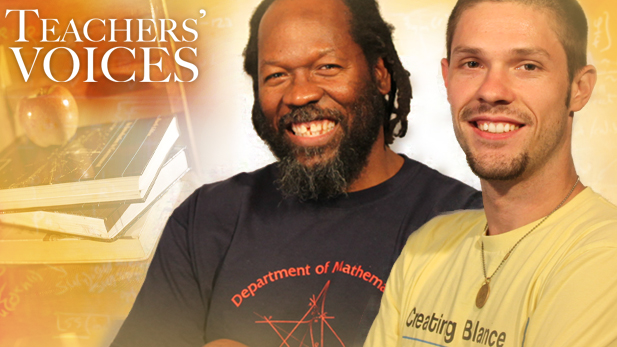 Charles Collingwood, a former mathematics teacher at Rincon High School (left), and Jordan Schettler, a PhD student in mathematics at the University of Arizona (right).
"My purpose is always to be better at what I do," says Charles Collingwood, a pre-calculus, AP calculus, and statistics teacher at Rincon High School for the past 16 years.

That desire to be better, is what inspired Charles to develop his own "project-based" method of math education.
Instead of grinding through endless series of equations, Charles challenges his students to investigate the mathematics behind issues of social justice, environmental responsibility, literature or art. Through lab projects, students not only analyze higher math concepts, they communicate those concepts through essay writing.
Charles' goal is to offer every student a chance to succeed. He recognizes that "speaking math" may come easier for some students through words and ideas rather than just numbers and symbols, alone.
For the past year, Charles has found a partner in Jordan Schettler, a PhD student in mathematics at the University of Arizona. The two were partnered through a National Science Foundation fellowship called G-Teams, a program that places math graduate students in K-12 classrooms to develop communication and teaching skills.
Together they have created a culture of curiosity and accountability. They hosted an after-school AP calculus tutoring session every Thursday evening where students work through AP math problems over pizza. Jordan has lectured on the hidden mathematics behind the paintings by Salvador Dali and Lewis Carroll's Alice's Adventures in Wonderland. Out of his own pocket, Charles attends and presents at math education conferences across the country.
But despite all their efforts, Charles and Jordan's work was impacted head-on by our nation's current education crisis.
Charles, was part of the mass-firings at Rincon High and the funding for Jordan's G-Team fellowship has been eliminated.
Charles begins by describing one of their first classroom projects.
Note: This conversation was recorded on the day Charles received news that he had been fired as part of the mass-layoffs at Rincon. But, we can now report that Charles has since found a new home at another TUSD high school.
To hear more stories, visit the Teachers' Voices archive.
(Funding for the production of Teachers' Voices is provided by Wells Fargo and the University of Arizona College of Education. The series is produced by Matt Felix for Arizona Spotlight.)