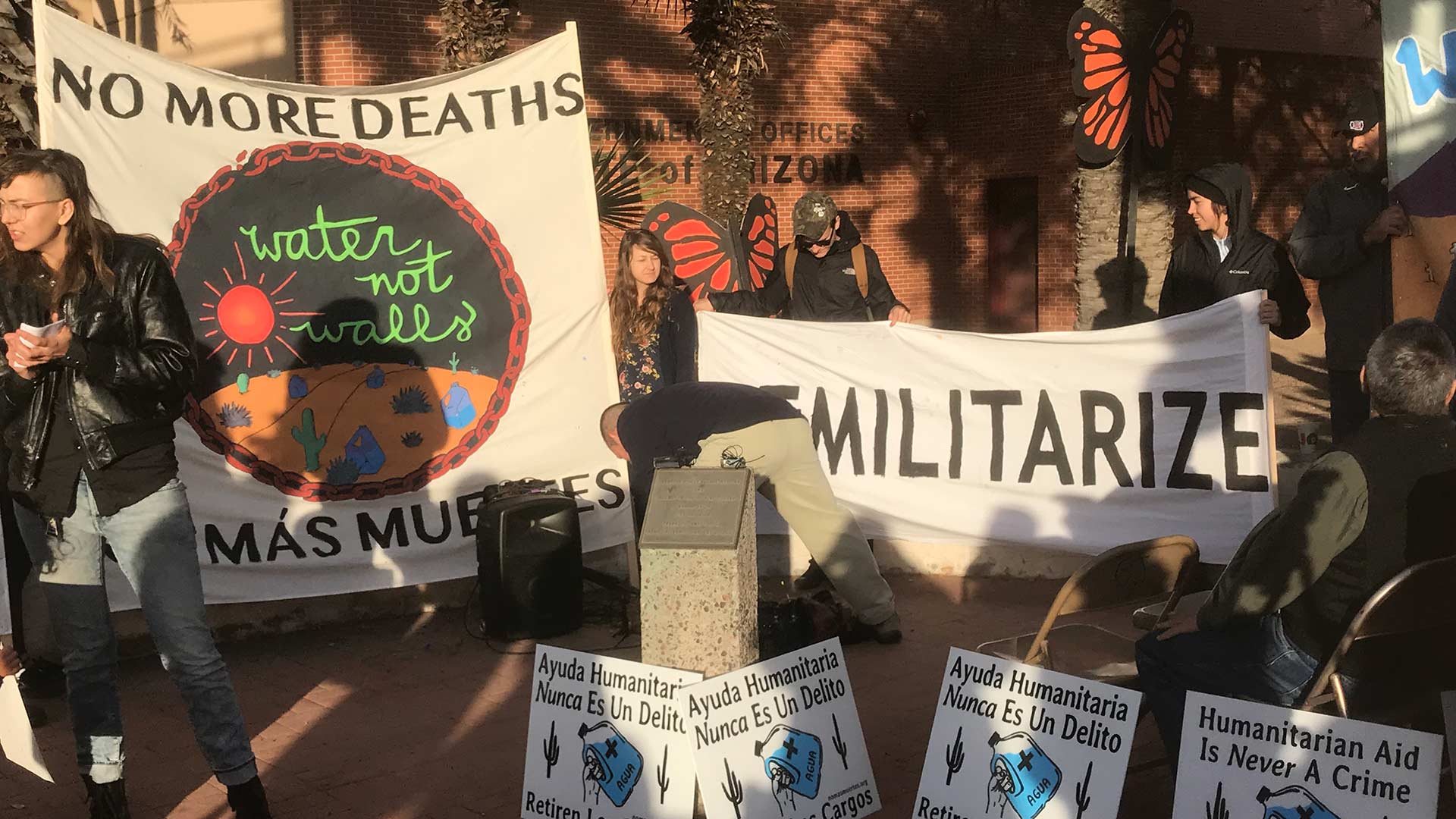 Signs held by No More Deaths supporters before the start of trial of four volunteers, Jan. 15, 2019.
Nancy Montoya/AZPM
The trial of four volunteers of the migrant rights group No More Deaths started Tuesday in Tucson in federal court.
The four face federal charges for entering the Cabeza Prieta National Wildlife Refuge without the proper permits. The volunteers maintain they are saving lives by leaving food and water for migrants crossing through one of the most desolate and deadly terrains along the Arizona-Mexico border.
Natalie Hoffman was accused of operating a motor vehicle in a wilderness area. Hoffman, Madeline Huse, Oona Holcomb and Zaachila Orozco McCormick are accused of entering a national wildlife refuge without a permit and abandoning property there.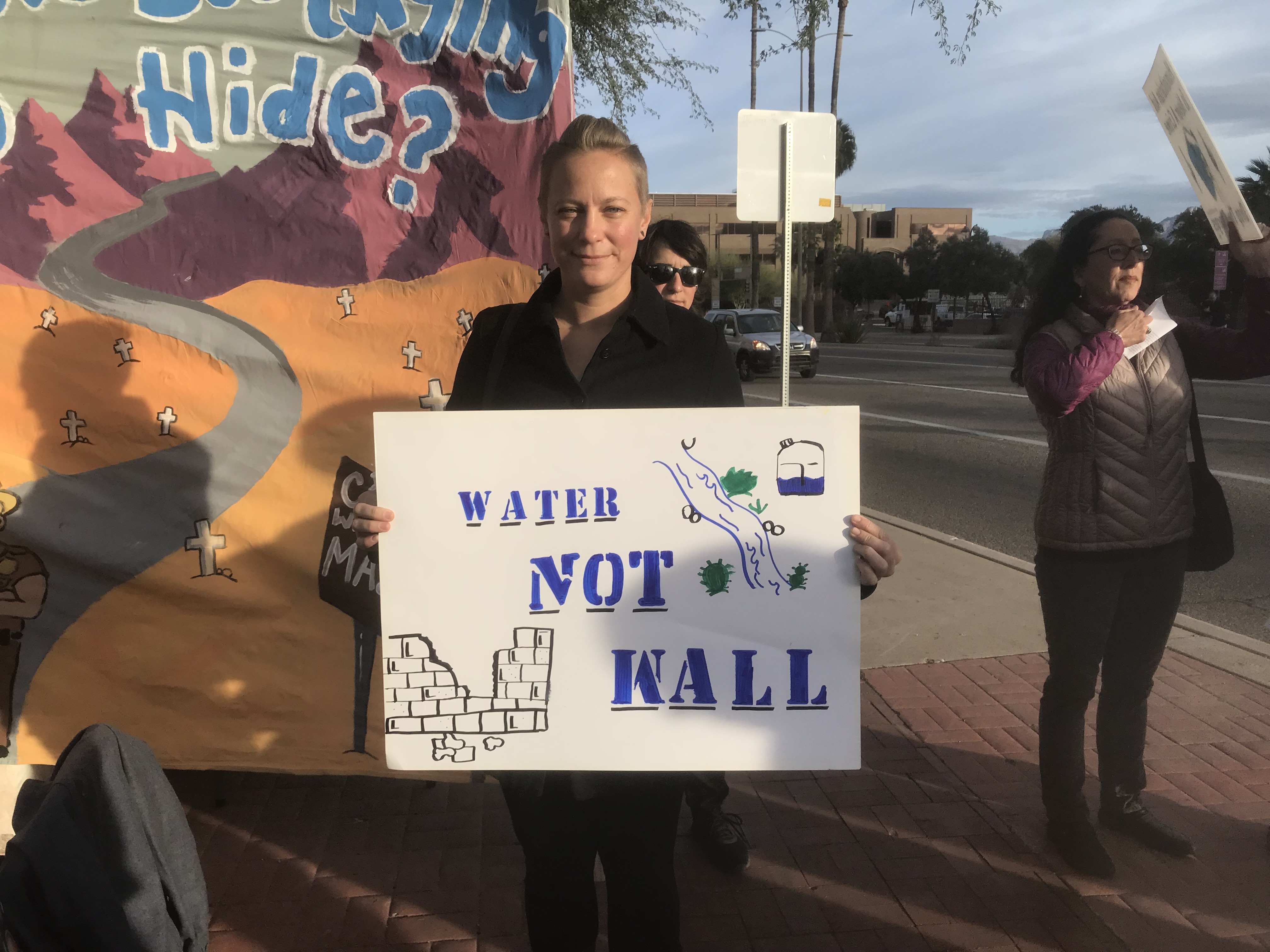 Protester holding sign at rally to support "No More Deaths" volunteers. (January 15, 2019)
All of the charges are misdemeanors. While the charges are relatively minor, the implications for humanitarian workers aiding migrants in the desert are enormous.
The battle between Tucson Sector Border Patrol and those working to provide aid to migrants in the desert has been ongoing for almost two decades. The last time charges were filed for similar efforts was in 2006.
No More Deaths volunteers charge that the Trump administration has ramped up efforts to stop humanitarian work in the desert.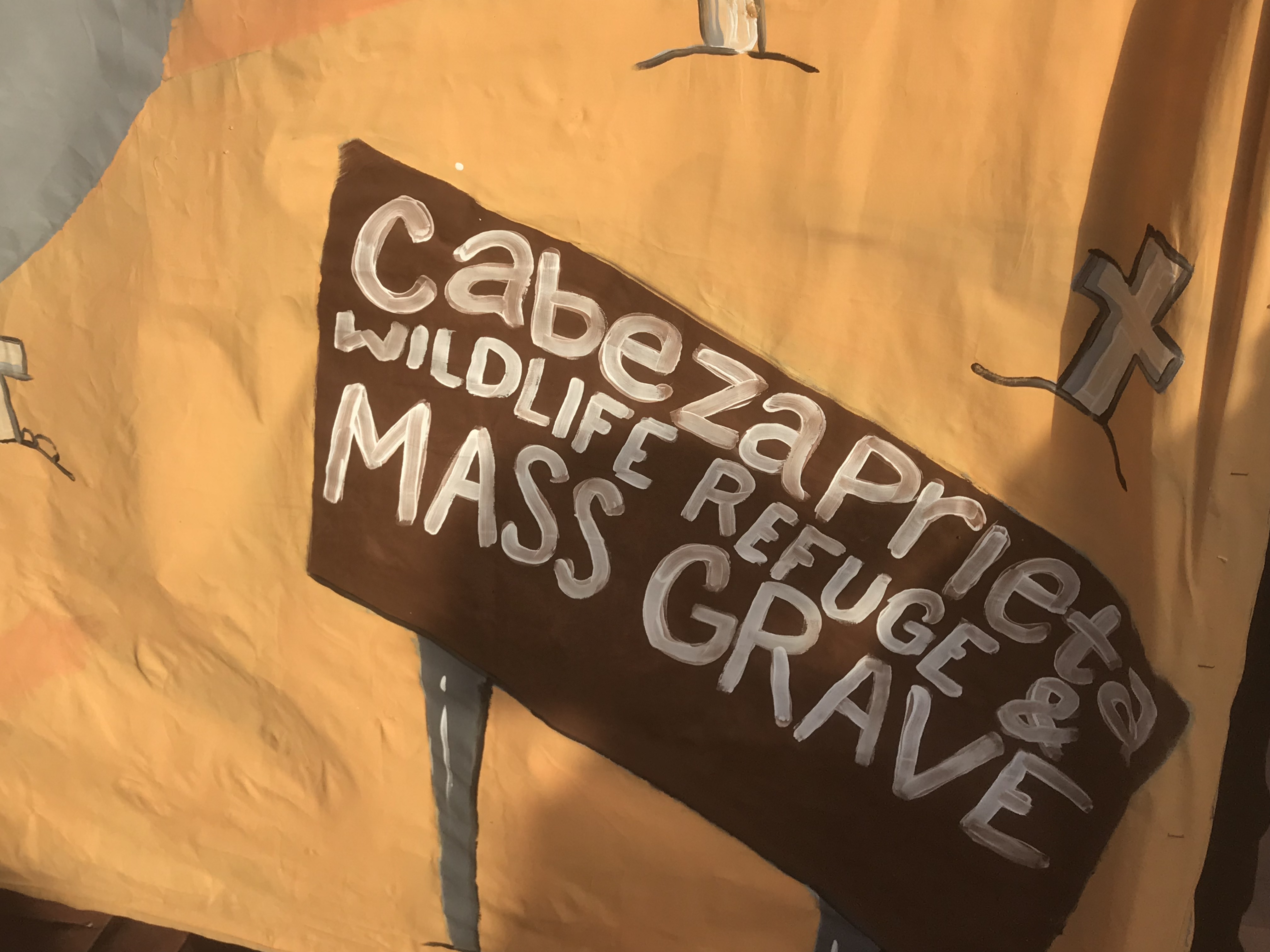 "Cabeza Prieta" sign at protest to support volunteer members of "No More Death" on trail for leaving food and water in the desert and for entering a protected area without a permit. (January 15, 2019)

Nancy Montoya
The Cabeza Prieta National Wildlife Refuge is an unforgiving terrain that includes more than 50 miles of the U.S.-Mexico border. Since 2017, the Pima County Office of the Medical Examiner says 43 sets of human remains have been found in the area. Since 2001, law enforcement and medical officials report that more than 3,000 remains have been found in Southern Arizona.
The bench trial before Magistrate Judge Bernardo P. Velasco is expected to last until Friday.