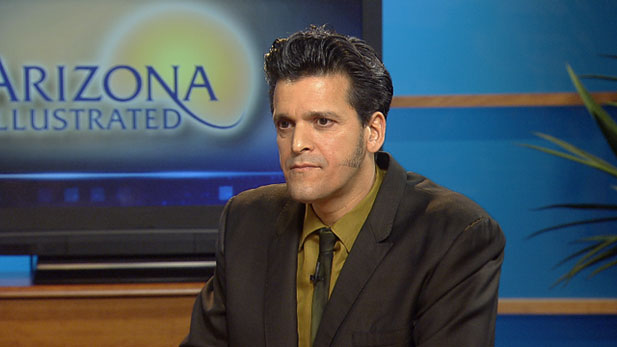 PHOTO: AZPM
Carlos Lozano from the Tucson-Pima County Historical Commission joins Kimberly Craft to talk about the protection of Tucson's historic signs.
During the mid-century heyday of roadside attractions and motel culture, Tucson's neon signs stood out. Downtown landmarks like the "diving girl" and other brightly-lit beacons along the "Miracle Mile strip"--the automotive corridor comprising Miracle Mile, Oracle Road, and Drachman Street--drew travelers to stay and explore the Old Pueblo. Then, in the 1980s, new codes designed to protect the city from garish signs threatened to do away with the historic legacy as well.
Carlos Lozano, a member of the Tucson-Pima County Historical Commission, joins Arizona Illustrated to discuss new efforts underway to revise the code and make provisions for the most important historic signs. "It won't be a revolution overnight," he says, but it may bring some beloved Tucson signs back into the cityscape.