Tucson-based PlayAbility Toys caters its products to very specific populations.
"We design toys for children with a variety of special needs, ranging from children that are blind or visually-impaired, children that are deaf, children that are on the autism spectrum and other children that may have severe cognitive or physical challenges," says company C-E-O Marty Fox.

Fox, who also works as an adjunct lecturer in the Eller College of Management at the University of Arizona, says his company, near Grant Rd. and Interstate 10, is the only toy company he knows of that caters to children with special needs. The toys aren't mass produced to attract just any children, which means plenty of targeted research needs to go into the products.
PlayAbility Toys CEO Marty Fox with some of his company's products. (PHOTO: Robert Rappaport)
PlayAbility Toys is what Fox and his colleagues consider a labor of love, since many of those on staff, including Fox, don't draw a salary. Some of the work is even done by interns, like Maria Billias, who just wrapped up a UA-sponsored internship. The recent graduate says she still wants to work for the company as a volunteer, even though she has found a paying job elsewhere.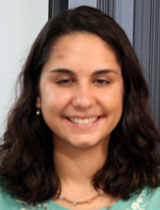 Maria Billias, former interen at PlayAbility Toys, (PHOTO: Robert Rappaport)
Billias says she learned a lot during this past semester at the toy company, while working in marketing and social media. "What I learned is how to approach these non-profits and how to communicate the value of the company," she says. "We had a consulting project with one of my courses...and we went to toy stores here...to obtain their feedback." Most of the companies said they like the toys, but their customers were not aware of the benefits, she says. After that, Billias and her fellow students came up with suggestions to better communicate the value of the products.
Some of PlayAbility toy's product line can be found at Crizmac in Tucson and all the products are available online.
Listen: