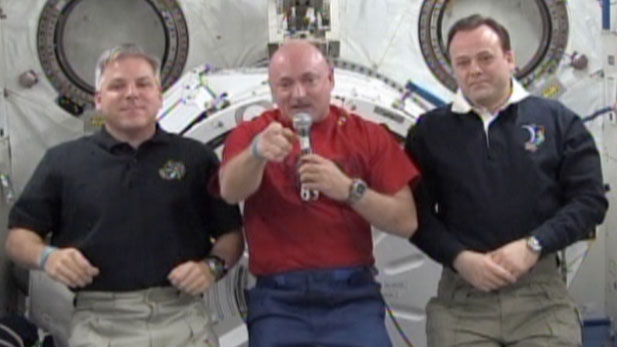 PHOTO: AZPM
From left: Shuttle Endeavour Pilot Gregory Johnson, Shuttle Endeavour Commander Mark Kelly, and Space Station Crew Member Ron Garan.
Local middle school students lined up for a rare opportunity to chat live with astronauts on the International Space Station. Fifteen students from Tucson's Gridley Middle School asked Shuttle Endeavour commander Mark Kelly, pilot Gregory Johnson and space station crew member Ron Garan about life in space and what it's like to be an astronaut.
The video conversation held on May 27, 2011 was arranged by the office of U.S. Rep. Gabrielle Giffords, D-Ariz. Kelly is Gifford's husband.
The chat lasted about 30 minutes, but for the youth of Gridley Middle School, the memory of this exciting experience will last a lifetime.