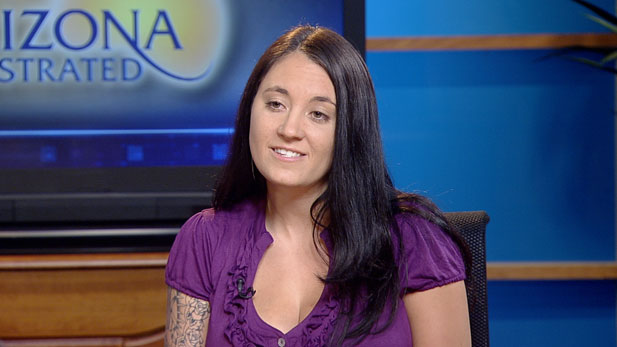 PHOTO: AZPM
Casey Chimneystar Condit, Youth and Family Programs Manager for Wingspan, discusses the group's efforts on behalf of the gay, lesbian, bisexual and transgender community in Southern Arizona.
Wingspan is a local non-profit organization that works on behalf of the gay, lesbian, bisexual and transgender community in Tucson and southern Arizona, aiming to promote the community's equality and safety.
Casey Chimneystart Condit, Wingspan's Youth and Family Programs manager and a veteran of its safe-haven programs for young people, joins the studio to discuss Wingspan's current offerings and its experiences with young people seeking help.
She says that despite the advances for the GLBT community and the changing attitudes among the general population, many GLBT teenagers continue to experience harassment, violence or other societal problems as they grow up and share their identities with others. A greater number of GLBT youth are homeless, and the suicide rate of GLBT young people is also higher.
Condit also addresses Two Spirits, a documentary about a Navajo teen who was the victim of a hate crime. It will be shown on Wednesday, June 8th at 6 p.m. at Tucson's main library in downtown Tucson and at three other library locations next week. You can also view the film, which is part of Independent Lens, on PBS-HD Channel 6 on Tuesday, June 14th at 11 p.m.
NOTE: This posting has been updated with the correct time of the main branch library screening on June 8th.