Campers and others in the Coronado National Forest Thursday morning were forced to leave, just ahead of the noon closure of the forest.

About 45 members of the Tucson Arizona Boys Chorus had to cut their outing short. The choristers, ranging in age from nine to 14, arrived last Sunday for their annual outing at the Boy Scouts of America's Camp Lawton at milepost 20 of the Catalina Highway. They were scheduled to stay until Saturday.
"I think there's some disappointment, because they were having a great time up here," says Dr. Julian Ackerley, director of the chorus.

While there are some sad feelings among the boys, Ackerley says it was a smart decision for the U.S. Forest Service to close the forest, which faces dry and dangerous conditions.

A small fire broke out near the parking lot at the camp on Wednesday, but was extinguished quickly, Ackerley says. He explained to the campers that the fire was an example of how fast things can get out of hand, and the boys had to take part in an emergency drill.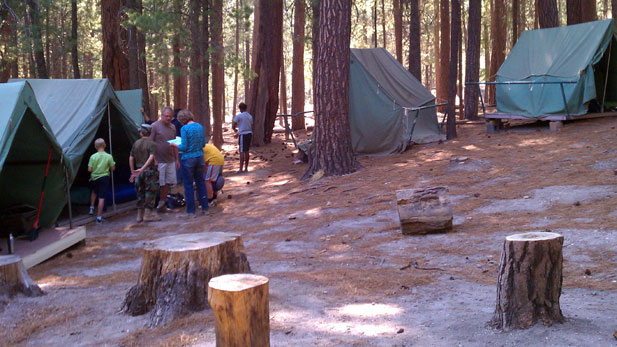 PHOTO: Robert Rappaport
Campers from the Tucson Arizona Boys Chorus were forced to evacuate as the forest closed.
Chorister Armando Ramirez has some fond memories of the trip, but wishes he could have stayed longer.

"I'm probably going to ask my brothers if they want to stay outside with me in a tent, so I can enjoy the outside a bit longer," he says.
The chorus also had to cancel a private concert it had scheduled for the close of camp Saturday.
Find more details on wildfire news and safety at AZPM's Fire Hub.