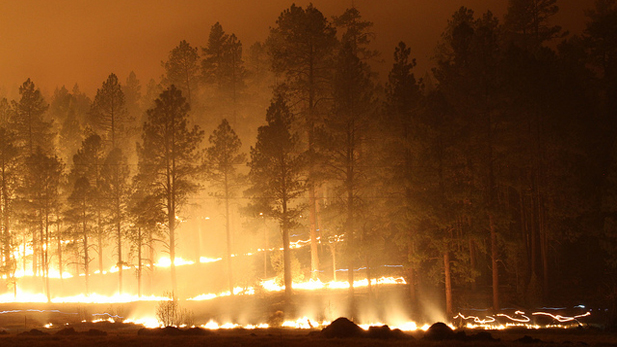 PHOTO: U.S. Forest Service
Over 3,000 firefighters battled Arizona's record-breaking Wallow Fire.
The Arizona Legislature has cut millions from the state budget to bring the spending plan into the financial black. One of the areas hit by the cuts was the Arizona Division of Forestry's fund for fire suppression. That is the money used to fight wildland fires on state trust land and private property.
The budget for fire suppression is currently $3 million, which does represent a reduction over the last two years.

However, officials with the state forestry division say that is not so bad as it sounds. When the state does have to fight a wildfire, they say, the Federal Emergency Management Agency will reimburse up to 75 percent of the cost of fighting the blaze.
To further help keep costs down, the state uses prison inmates specially trained to fight wildfires. Arizona has a dozen 20-person inmate crews who are often the first responders to a wildfire in the state. Those inmates also work on fire prevention projects by thinning state forestland.
Find more details on wildfire news and safety at AZPM's Fire Hub.