Mt. Lemmon Fire Chief Randy Ogden has a lot on his mind.

PHOTO: Mark Duggan
The Mt. Lemmon Fire Station is about one mile from Summerhaven.
In an interview on the eve of the Coronado National Forest's closure--prompted in large part by the state's extreme fire conditions and ongoing wildfires--he talked about his worry over dry conditions on the mountain, and the lack of manpower and resources to properly fight a fire.
Access to water isn't the problem, he says, but too few staff members and too little equipment could leave the Mt. Lemmon Fire District with its hands full if a fire should break out on the mountain.
He described how his crews spot and respond to fires, and the district's efforts to work with Summerhaven residents to create "defensible space" around their homes that may help save them in a future fire. Click to listen: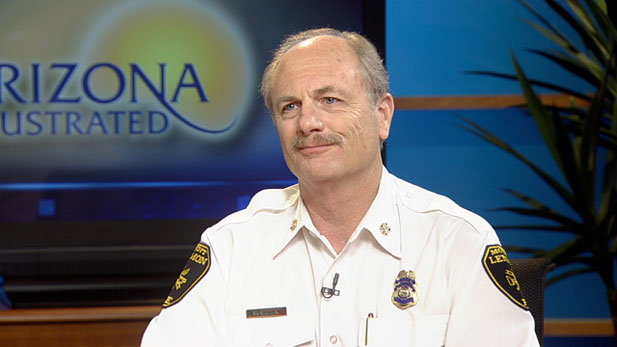 PHOTO: AZPM
Randy Ogden, Chief of the Mt. Lemmon Fire District.
Find more details on wildfire news and safety at AZPM's Fire Hub.