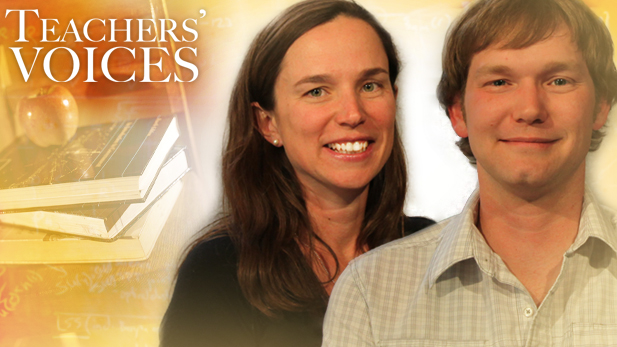 Greer Parrish and Stephen Goudinoff, two Exceptional Education teachers of students with visual impairments
Technology in the classroom, like laptops and smart boards, have become commonplace in schools across the country.
But, what happens when a student can't see what is on the board or when a computer screen is too bright for them to read the text.
Those are some of the challenges that students with visual impairments face every day.
On this week's Teachers' Voices, we'll hear from Stephen Goudinoff and Greer Parrish, two Exceptional Education teachers in the Tucson Unified School District. They travel to multiple schools across the district, working to bridge the gap between students with varying degrees of visual impairments and the day-to-day activities of a modern classroom.
Assistive technology has come a long way, but it is Stephen and Greer's job to discover how to best utilize that technology for the individual needs of every student they work with. From learning how to use a braille writer to take notes or use email, to computer software that magnifies images or reads what is on the screen to the user.
Stephen begins:
To hear more stories, visit the Teachers' Voices archive.
(Funding for the production of Teachers' Voices is provided by Wells Fargo and the University of Arizona College of Education. The series is produced by Matt Felix for Arizona Spotlight.)