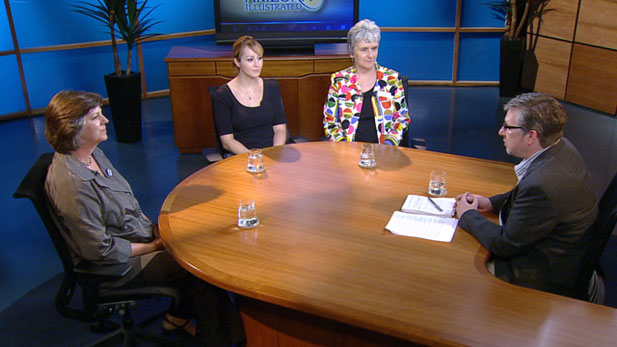 PHOTO: AZPM
Literacy Volunteers of Tucson Director Betty Stauffer, Pima County Public Library Director Nancy Ledeboer, and adult learner Ashley Hightower discuss the value of literacy services.
In May of 2011, the managing boards of five different literacy groups in Pima County voted to merge together in order to further their mission. The groups are Literacy for Life Coalition, Literacy Volunteers of Tucson, Reach Out and Read Southern Arizona, Reading Seed, and Stories That Soar!. While each expects to continue doing its own specific job, they hope that by uniting together they can stretch their resources farther, offer more services, and make a larger impact on the community.
In 2007, the Southern Arizona Leadership Council's Tucson Regional Town Hall identified literacy as one of the top priorities for the community. The Community Foundation for Southern Arizona launched the initiative that would create the Literacy for Life Coalition in 2008. After successfully collaborating on projects in 2010 within Tucson's first designated "Literacy Zones" in the Sunnyside and South Park Neighborhoods, the leaders of the five organizations started looking at more ways to work together to advance literacy. Those discussions lead to the decision to merge into one organization.
Betty Stauffer, Executive Director for Literacy Volunteers of Tucson, will be the executive director of the new organization. The executive directors of the other four organizations will remain as program directors. Stauffer says "We envision a community where every child graduates from high school, the crime and poverty rates are the lowest in the nation, a skilled workforce fosters a thriving economy, and the lively arts and culture environment is second to none. And we know that through literacy, this is possible."
This summer, focus groups will be held, and an online survey will be released to help determine the official new name for the movement. More information is located at TucsonLiteracyMovement.