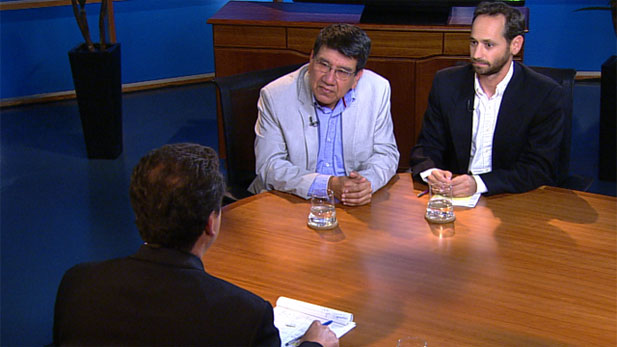 PHOTO: AZPM
Roberto Bedoya, executive director of the Tucson Pima Arts Council, and artist Josh Schachter discuss arts funding in Tucson.
Reeling from the tough economic downturn, many communities have cut their funding for the arts to stay afloat. But artists working in Tucson's vibrant creative community say scarce arts funding only hurts communities in the long term.
Roberto Bedoya, executive director of the Tucson Pima Arts Council (TPAC), and Josh Schachter, an artist, teacher, and community activist, join Arizona Illustrated to discuss art's importance in the community and the impact it has on Tucson citizens.
Bedoya says that although the average city receives $6 per person per year in government contributions for the arts, Tucson's citizens only receive a fraction of that at 97 cents per person per year.
Even that small contribution helps to provide Tucson with programs like the Finding Voice project that Schachter co-leads.
"What we're trying to do is use media and photography to develop literacy skills of the refugee and immigrant youth that we work with," Schachter says.
Schachter says that this particular program has been helpful in giving voice to those who may have trouble vocally articulating their thoughts, ideas, and emotions, by giving the students an alternative way to express them, through photography.
Bedoya says TPAC's goal is to find ways to boost community support for the arts and help keep programs like Schachter's thriving.