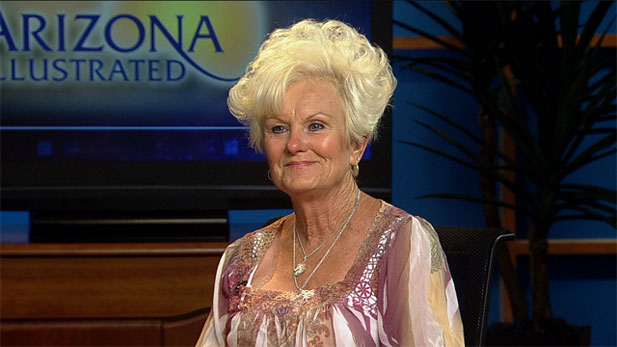 PHOTO: AZPM
Former horse trainer Patti Shirley cares for racehorses past their prime.
The racehorses who run in Triple Crown races, including the wonderful Animal Kingdom who recently won the Kentucky Derby, don't always have such a wonderful life after the race.

What happens to racehorses when, whether because of age or injury, they can no longer run? For trainer Patti Shirley, the answer is simple: they come home.
Shirley used to breed thoroughbred racehorses at her farm north of Three Points, but several years ago decided to go the distance for the animals she'd sent out into the racing world. She turned her facility into the non-profit Equine Encore Foundation, a retirement home for thoroughbred racehorses and quarter horses.

Today, she takes care of more than 60 horses who used to run on tracks in Arizona and New Mexico.
"It's primarily the responsibility of the thoroughbred racing industry to take care of their athletes when they can no longer run," Patti says. "There are people in the industry who are coming forward, but the problem of too many horses is so overwhelming we need the help of everyone who loves horses."

Some donations come from the industry, but she also has support from individual horse lovers, including bestselling mystery writer J.A. Jance.
Patti joins Arizona Illustrated to talk about the challenges of caring for so many horses, especially in these tough economic times. For instance, the cost of hay has skyrocketed and it now costs her more than $7,000 a month to feed her horses. Maintaining her operation is a constant "scramble," she says, and would benefit from greater support from the racing industry.
Donations to the Equine Encore Foundation can be made here.