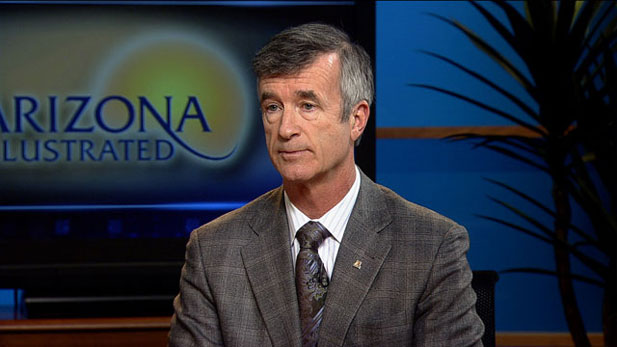 PHOTO: AZPM
Former UA President Robert Shelton discusses his recent resignation to head the Fiesta Bowl.
University of Arizona President Robert Shelton says his decision to depart the University of Arizona and take the executive directorship of the Fiesta Bowl was difficult.
"That's always a tough decision," Shelton tells Arizona Illustrated. "My wife, Adrian, and I feel passionate about the University of Arizona. We've been here for five years, five good years, five challenging years. I think when all was said and done, it was an opportunity to try something new. ... About every five years, it's time for a change."
Shelton announced his resignation last week, effective Aug. 1, when he will take over as head of the Fiesta Bowl.
The Phoenix-based organization was seeking a new director after a spending and political scandal engulfed it this spring. The release of an internal investigation that uncovered lavish spending and questionable if not illegal political contributions led to the firing of the previous executive director.
At the same time that the Fiesta Bowl opportunity presented itself, Shelton was experiencing rough going with the Arizona Board of Regents, which was preparing to review his contract, set to expire in 2012.
Regents Chair Anne Mariucci said in an interview with Arizona Public Media in the wake of Shelton's resignation that his departure was a "win win" and would allow the regents to find someone better able to cope with financial issues.
But Shelton says that the review and the possibility his contract would not have been renewed were not factors in his decision.
"That wasn't the focal point," Shelton says. "It was an opportunity, as I said, to try something new. These jobs leading public research universities these days are pretty tough jobs. They take a toll on you year after year. That's not just in Arizona, but nationwide."
Shelton lists among key accomplishments during his tenure as UA president the growth in the student body, in numbers, diversity and academic quality. He also says that the UA's continual growth as a research institution despite tough fiscal times was an accomplishment.
Challenges remaining include development of oversight for the UA health care system and the Phoenix biomedical campus, overall finance and development of the faculty as a research-based group.
The financial challenges of the last five years, in which the Legislature cut state funding to all three state universities continually--including $198 million for the three institutions in the coming fiscal year, about $75 million of that for the UA--were among the more difficult issues he faced.
"Our budget cuts aren't because people are out to do us in," he said. "It's just the situation we have here in the state of Arizona. I do say we're on the cutting edge of what's happening in higher education. What we have done is planned very carefully. I've been very cautious, very conservative (as a) fiscal manager."