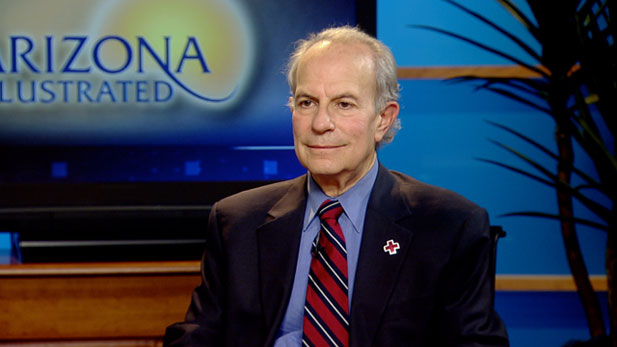 PHOTO: AZPM
Richard White, local director of the American Red Cross, talks about the organization's work and demands in a time of multiple disasters.
With massive fires throughout the state and multiple disasters across the country, the American Red Cross is stretched to its limits.
Richard White, executive director of the American Red Cross of Southern Arizona, joins Arizona Illustrated to discuss what that means locally. He says the state's massive fires are raising the need for financial contributions so that the agency can continue responding to the needs of the community.
The group has set up a special fund to help residents affected by the Cochise County fires and other disasters. And while many observers may want to donate clothing, food or other items, White says it's best to provide economic assistance at this time.
He says new volunteers are welcome on an ongoing bases, but not for the current crises, because the Red Cross cannot spare the resources to take would-be volunteers through the special training programs they require.

And while many people are paying very close attention to the fires, White urges adults to remain vigilant when there are children around swimming pools and other bodies of water, because Arizona has a very high rate of drownings and near-drownings.