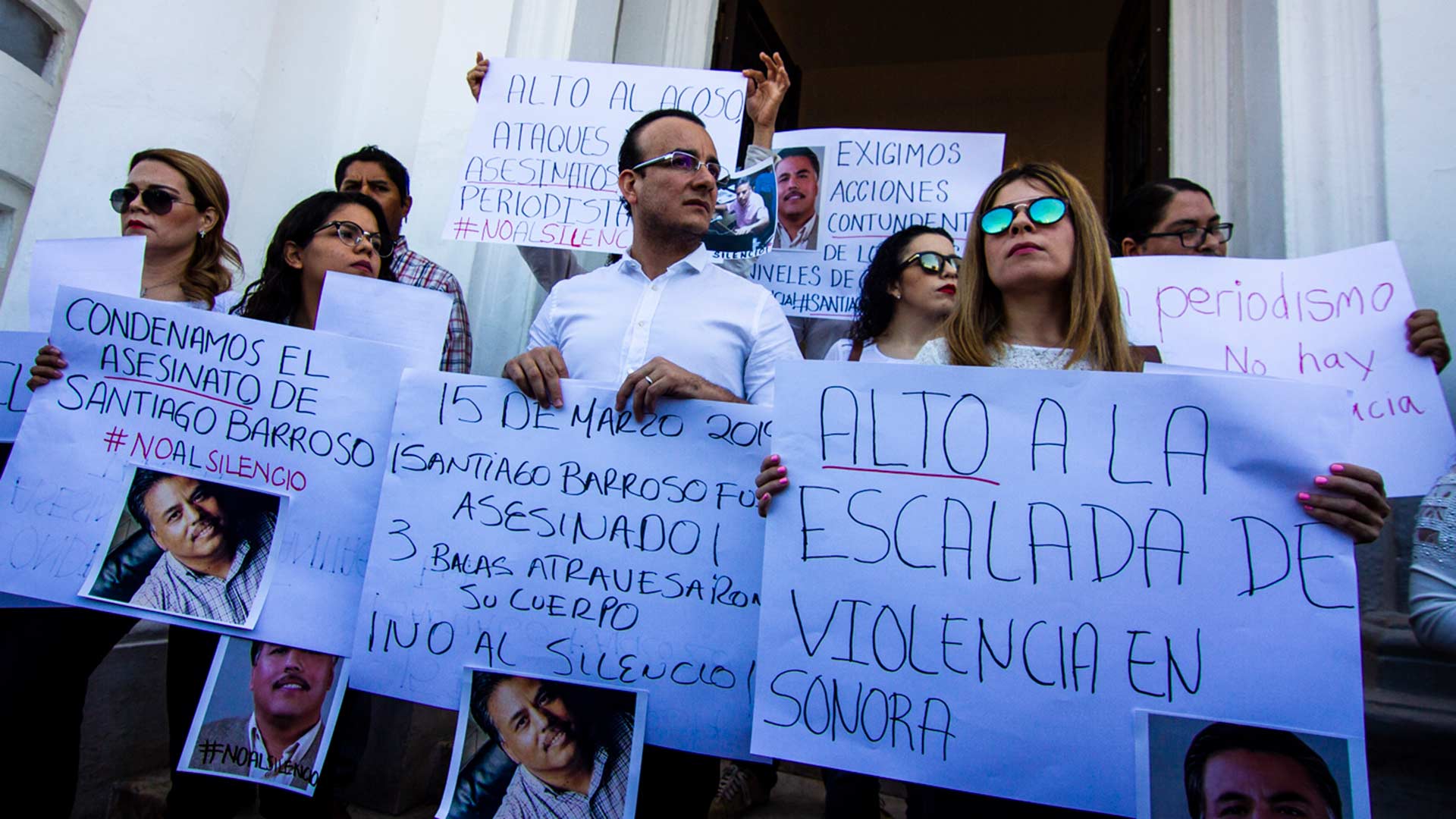 Protesting reporters stand in front of the Government Palace in Hermosillo to demand resolution of Santiago Barroso's murder as well as broader protection of press freedom.
Murphy Woodhouse/Fronteras Desk
In front of the Government Palace in the Sonoran capital of Hermosillo Monday morning, reporters dressed in white were demanding justice for the fatal Friday night shooting of Santiago Barroso, as well as action to ensure free expression in the state.
The San Luis Río Colorado reporter was shot and killed Friday evening by at least one assailant after the broadcaster and columnist answered a knock at his door.
"What we're trying to achieve is no more deaths," said Cynthia Garcia, an Hermosillo reporter and member of the Sonoran Journalist Network. "Not just reporters, but all Sonorans. That's why we have to unite, because united we can be very, very strong."
Four Mexican reporters have been killed so far in 2019, two in Sonora.
Barroso was a well-known reporter in San Luis Rio Colorado, a border city of nearly 200,000 an hour south of Yuma.
He had a daily radio program and column in Semanario Contraseña.
"That's what makes this crime even more tragic," said longtime friend Humberto Melgoza, who is director of the weekly. "He's leaving behind a wife and two children, and he was also the breadwinner. It's a tragedy on all sides, a family and professional tragedy."
In his work, Barroso explored sensitive subjects like smuggling and organized crime. For example, in February he wrote a column about the history of the Sinaloa Cartel's use of San Luis Río Colorado as a smuggling hub.
Melgoza described Barroso as a calm guy in his personal life, but who wielded a "sharp pen" in his reporting, something he thinks could be at play in his murder.
Assistant State Attorney Gustavo Bustamante said there's no proof that such work was a factor in the crime.
"Nevertheless, it's very probable that that is the case," he said. "We don't want to confirm it, but it's a line of investigation we're pursuing in detail, precisely because his work as a reporter was to publicly denounce criminal activity."
In February, gunmen shot longtime Hermosillo radio host Reynaldo Lopez and sports reporter Carlos Cota while they were driving together. Cota survived the attack, but Lopez died at the scene. Authorities believe the media professionals were not the intended targets of the attack. Several arrests have been made in that case, including two over the weekend.