The massive Wallow Fire came close to obliterating the town of Greer, Arizona. Although some buildings were left standing, more than 20 burned. Now, with the fire almost contained, residents are making their way back to the tiny mountain town to pick through what's left of their homes.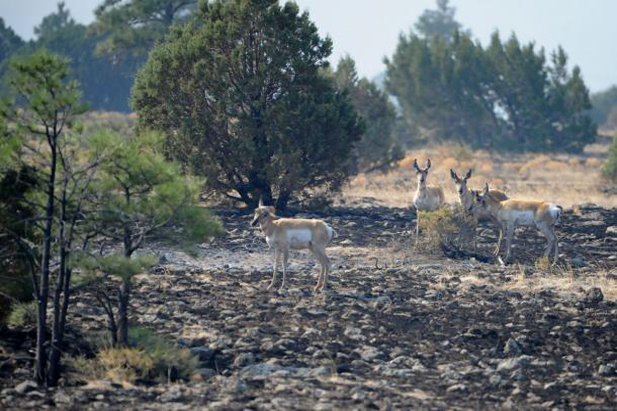 Deer wander through a charred area in the wake of the Wallow Fire.
Barbara Nicoll and her son Brian are in what's left of their garage, sifting through debris. The house their family has owned since the early 1970's has been reduced to a chimney and a blackened water heater.
Barbara pauses for a moment when she finds a family keepsake that dates back to Arizona's territorial days. It's a bell, and she chokes up as she runs her hands over its surface.
"My parents want to make sure we got it…and it did survive," she says. "I'm picking it up and making sure they get it back."
Down the road, Pauline Merrill is cleaning tables and getting ready to reopen her Rendezvous Diner. The Wallow Fire spared the building that houses the restaurant. Merrill is looking forward to opening for business, if only to restore a sense of normalcy.
"It's about people making sure people are okay," she says.
But a sense of foreboding may lurk over Greer for a while. Residents are already casting a wary eye to the burned slopes above town, wondering if they'll be able to absorb summer rains, or come sliding down and cause widespread flooding. But until then, residents are staying focused on rebuilding Greer. Barbara Nicoll pauses from the work of digging through charred memories.
"It will take years," she says. "But I think the community will come together."
Correspondent Paul Atkinson visited Greer recently and filed this report:

The Wallow Fire, when it was still threatening the Arizona mountain town of Greer.