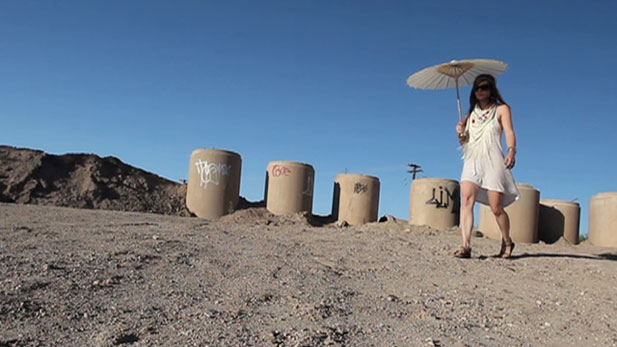 PHOTO: AZPM
A performance artist in a new work in response to current events in Arizona; presented in Phoenix, Tucson and Nogales, Sonora this summer.
A group of Tucson artists has been working to put together a program of performance and video art that will travel to three locations in the Southwest. The event, Arizona Between Nosotros: Artists from Mexico Respond in Video and Performance, will bring leading artists from Mexico for a festival of cross-cultural dialogue in Tucson, Nogales and Phoenix.
Heather Wodrich is a performance and video artist based in Tucson and an organizer of the project. She says the program "brings artists from all over Mexico to Arizona for performances, and to show video art, in response to current events in Arizona."
Heather says the idea for Arizona Between Nosotros came from a project last year in Mexico City, where a group of American artists did a collaborative performance and video art festival.
"There was a lot of media attention when we got there," she says, and the passage of SB 1070 created a "whole new context."

Organizers of Between Nosotros say the current context of Arizona's immigration policies has created increased interest among audiences in Mexico.
Paco Velez, an organizer of the project and an Arizona-based artist who performed in Mexico City last year, says his performance had a rocky start. "People were heckling me," he says. In the end, though, the audience was receptive and the performance created dialogue, he says.

Velez says performance art has the ability to create an intimate relationship with an audience "because it's so body-based, and there is no barrier between you and the artist."
Velez hopes that inviting artists from Mexico will foster needed conversations between the two countries. "I hope that it happens and people connect with what the artists are doing," he says.
Logan Phillips is a poet and performance artist who's been living in Mexico City for the past five years. While there he started a performance group called Verbobala, but he says he recently felt compelled to return to his home-state of Arizona. He says that after the passing of SB 1070 last summer, "saying where I was from made me have to defend myself as not being a racist."
"Arizona was being portrayed as a synonym for bigotry," Phillips says.
Audiences can expect to see a variety of perspectives represented in Arizona Between Nosotros, Phillips says, and some stereotypes that Americans may have about Mexican culture and society will likely be challenged.
"It's not a monolith," he says of our neighbor to the south. "There are many, many layers to this society, and frequently what we see here is one layer of [Mexican] society, and a large number of simple stereotypes."