Pima County is starting over at its Roger Road waste-water treatment plant on the west side of Interstate 10. When construction is finished on a new sewage plant in three years, the old one will be demolished.
The project is an alternative to upgrading the 60-year-old treatment facility, Pima County Wastewater Director Jackson Jenkins said.
"This new facility is a replacement for the existing Roger Road Wastewater Reclamation Facility that's just a few hundred yards south of us here. That facility was built originally in 1951, and that's gone through some expansions and upgrades but never to the current (standards). It does not treat the wastewater to the water quality standards that are currently in existence," Jenkins said.
"So as we evaluated whether to upgrade and enhance that old facility, or just move a few hundred yards north of it and put a new facility in, we've determined it's more economic, it makes more economical sense and a lot better product if we build a new plant."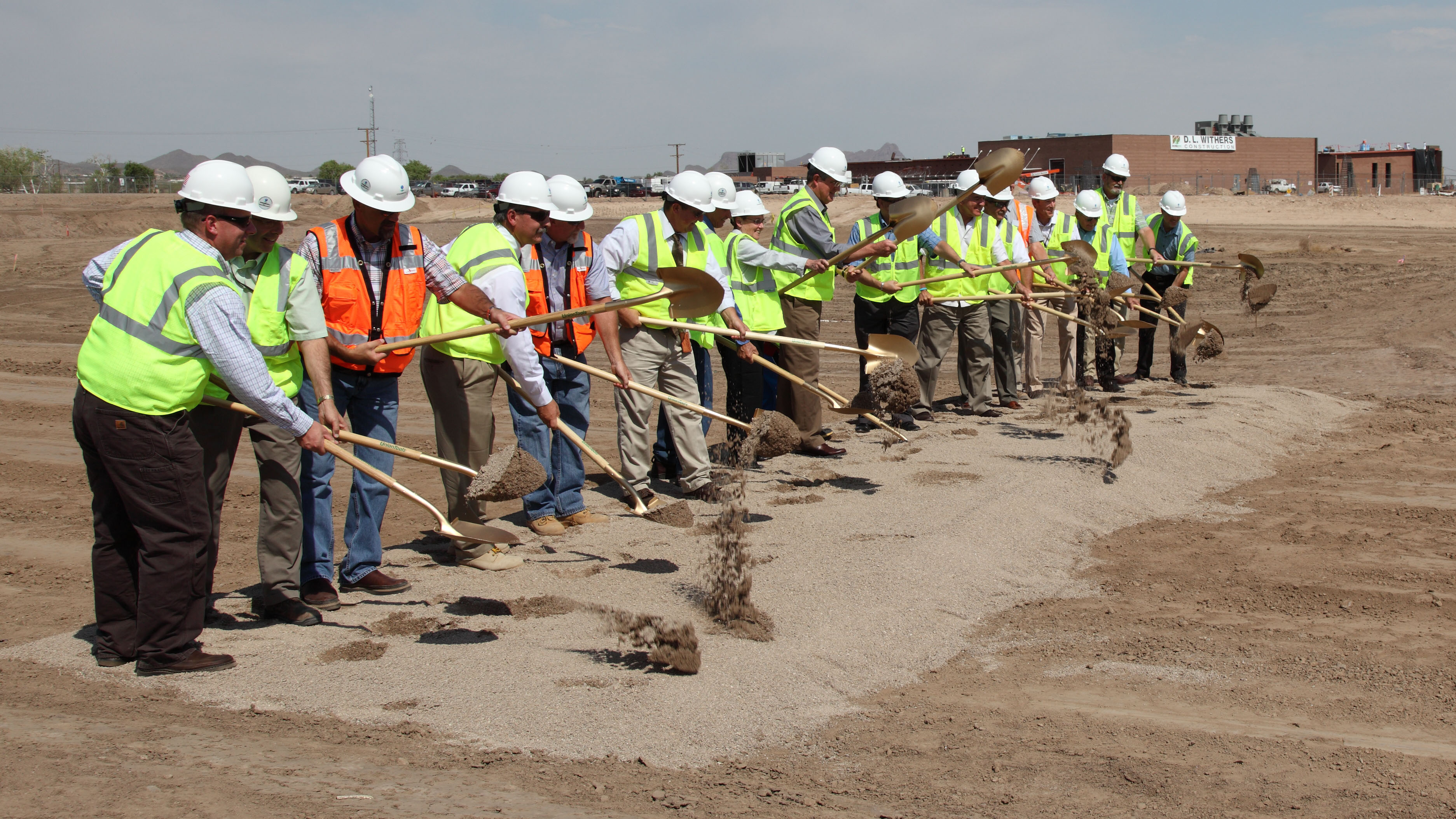 Pima County officials broke ground for a new waste-water treatment plant, ceremonially moving to eliminate sewer plant odor on Tucson's northwest side.
CH2M Hill, a private company, is doing the construction and will employ about 200 people on the project. When construction is finished, the company will also operate the plant. All the sewer treatment plants are county-run now, and the new company has to hire most of the Roger Road employees and give them comparable benefits when it's ready to open the new plant.
To answer the question that's on everyone's minds, what about that smell? The signature odor greets drivers on Interstate 10 heading into Tucson near Roger Road. The new plant will bring the treated waste water up to current environmental standards, but it's also supposed to eliminate odors. That's a big deal; just ask some of the Pima County supervisors.
"We will environmentally decommission the old site, and then we will celebrate the smell going away," said Supervisor Ramón Valadez.
His colleague Supervisor Ann Day agreed.
"It does mean the demolition of the Roger Road sewer treatment plant that is so old, and so antiquated, so it does mean the end of that horrible smell that was so prevalent for so long as you drove into town down the interstate," she said.
It's a point of contention with many constituents, particularly for Day and Supervisor Sharon Bronson, who represent county residents near, or downwind, of the treatment plant.
"When I first got elected in '97, one of my first calls was about the odor at Roger Road. Mr. Huckelberry wasn't sympathetic at that point in time. He still lived over in Flowing Wells. He got real sympathetic a couple of years ago when he moved very close to the treatment plant," Bronson said.
County Administrator Chuck Huckelberry said the smell has been an unwelcome part of the fabric of life in some parts of Tucson.
"You knew when you basically arrived in Tucson because the gateway of Roger Road, the Roger Road sewer plant welcomed you to the community," he said.
It did more than that, though.
"I went to school in this same area too, I went to Flowing Wells and the Flowing Wells High School. I can tell you that the Roger Road sewer plant was that invisible 12th man on the football field during home games, giving a decided advantage to the home team," Huckelberry said.
The new sewage plant will be able to treat 32 million gallons of waste water a day, less than the Roger Road facility does now, but an expansion underway at the Ina Road treatment plant will allow that facility to take on more of the area's waste water.
While residents will undoubtedly celebrate a less odiferous sewage plant, they're taking on the cost of the new construction. All the construction at Roger, Ina and a connection pipe between the two is expected to cost about $720 million.
"Two years ago the board approved four consecutive 10 percent increases to the user fees. And so we had the first increase was last July, the second increase will be next week or at the end of this week the rates will go up 10 percent more, and we still have two more that will be evaluated in the coming two years to determine if we're going to use those," Jenkins said.
That's coming from the rates wastewater customers pay. Jenkins says nationally, we're about in the middle of the pack for what we pay for sewage treatment.