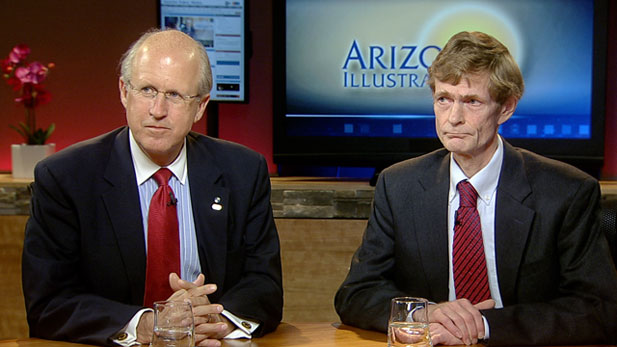 Federal debt experts David Walker (left) and Robert Bixby say U.S. creditworthiness threatened (PHOTO: AZPM)
Congress is struggling with the issue of the deficit and the debt ceiling, with a looming Aug. 2 deadline to raise the cdeiling.
David Walker, is CEO of the Comeback America Initiative and a former comptroller of the United States, says although politicians try to point a partisan finger at the deficit, which just isn't historically accurate, both parties are responsible.
Walker is conducting town hall meetings on the deficit and spending around the nation with Robert Bixby, executive director of the Concord Coalition. Bixby says while many Americans may not think about the deficit, they should because just like a credit card debt, the deficit must be paid.