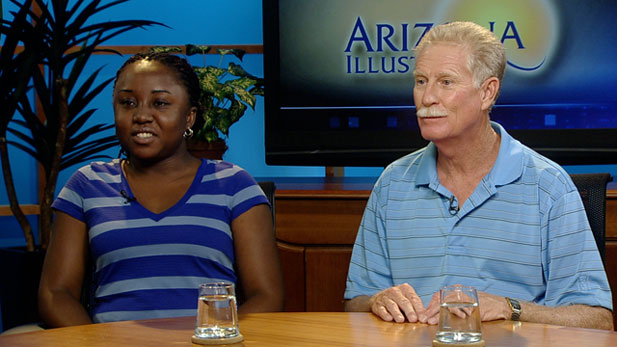 PHOTO: AZPM
Oluyomi Ajibode celebrated her first Independence Day as a U.S. citizen with help from Steve Jarrett, a volunteer citizenship class teacher.
This Fourth of July was extra special for Oluyomi Ajibode, a new U.S. citizen from Nigeria who celebrated the holiday atop A Mountain barbecuing with friends.
"I'm excited now that my vote will be counted," says Ajibode, who is working toward a Ph.D. in environmental microbiology at the University of Arizona. She hopes to work for the federal government some day.
Steve Jarrett is a volunteer teacher at Pima Community College who has been helping many other people become citizens by teaching them some of the basics they will need to pass the required test.
"Most of the folks in my classes are originally from Mexico, but we have folks from currently somewhere between 20 and 30 countries that go through our classes," says Jarrett, who has been teaching citizenship classes at Pima for 10 years.