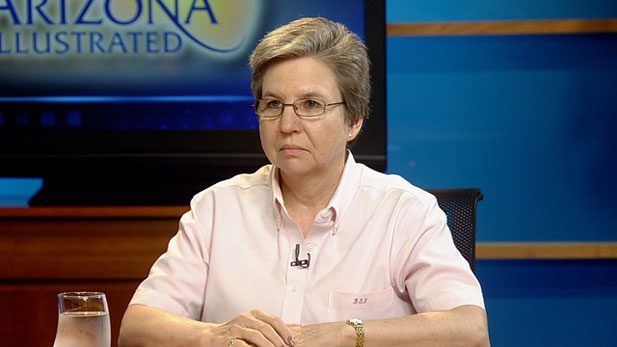 PHOTO: AZPM
Barbara Jackson works at "Animal Health Express" in Tucson, a feed and livestock supply store where she's come across many ranchers who have been affected by the recent fires.
Among the hundreds of thousands of Arizona acres scorched by a record-breaking fire season are large stretches of cattle country. As blazes like the Horseshoe Two and Wallow fires swept across the landscape, they burned public and private lands alike and displaced whole herds of cattle.
Barbara Jackson and her husband own Vaquero Feed and Livestock Supply in Tucson, an enterprise that puts her in close contact with rural customers deeply affected by the fires. Along with an internet-based business, they sell to ranchers and other customers in Arizona.
Jackson and other volunteers are working with the Arizona Cattle Growers' Association to establish the Great Arizona Bale-Out and raise money for help. (The Arizona Cattle Growers' Association and the Arizona Cattle Feeders' Association are components of the Arizona Cattlemen's Association.)
While the fires have been just a news story for many residents around the country, Jackson says they have been a tangible and catastrophic event for thousands of Arizonans, and she's encouraging donations and assistance from as many people as possible.