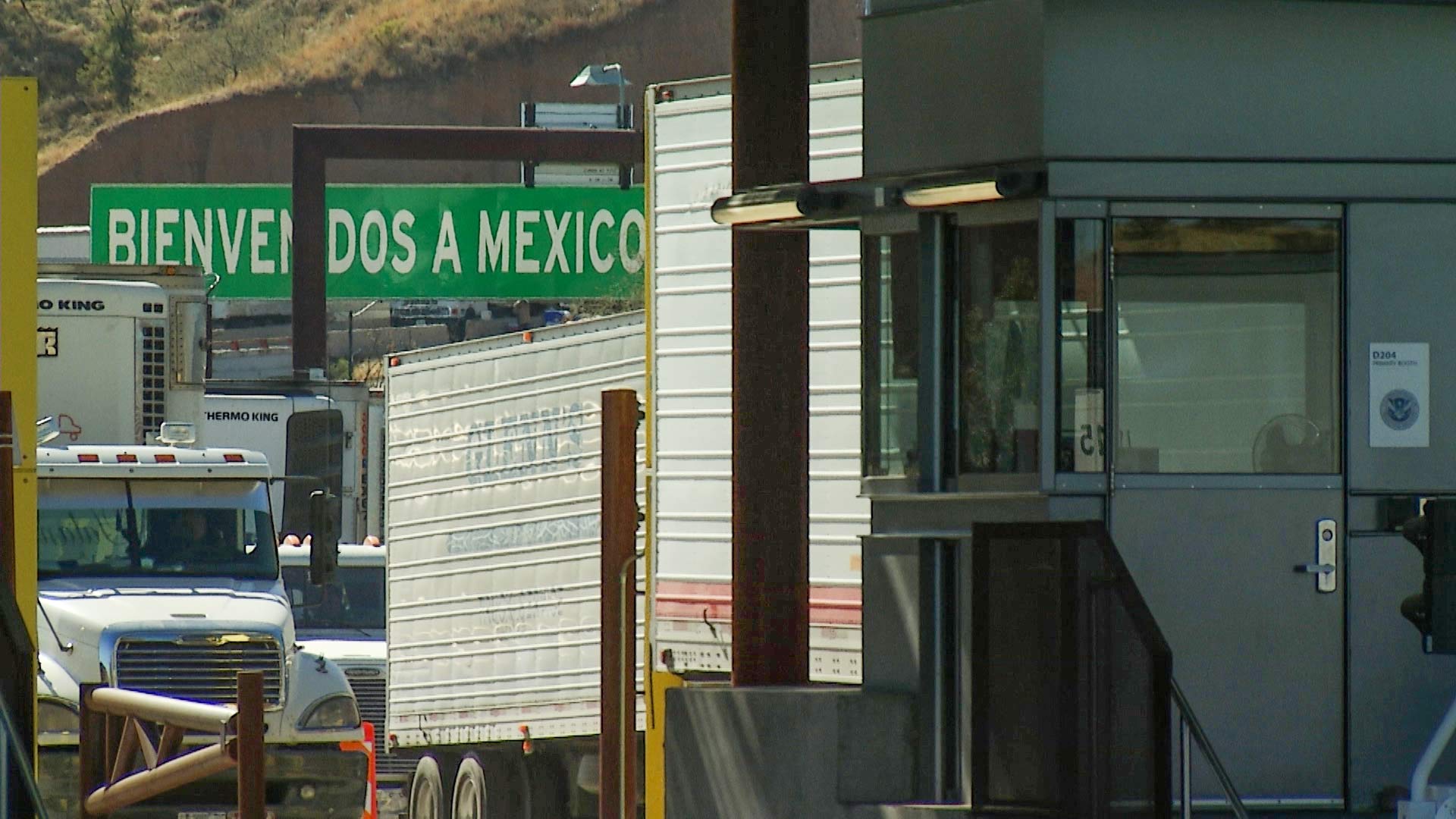 Trucks wait in line to cross into the United States via Nogales, while a sign reading "Bienvenidos a México" welcomes those crossing into Mexico.
AZPM
Mexico has long been Arizona's top trade partner. Now, for the first time, our southern neighbor is also the No. 1 trade partner with the United States.
In January and February of this year, trade between Mexico and the United State accounted for $97.4 billion in imports and exports. That's about 15 percent of all U.S. trade worldwide, surpassing both China and Canada for the first time.
"It's a very, very impressive and rapid growth in bilateral trade, said Duncan Wood, director of the Mexico Institute, a think tank with the Woodrow Wilson Center in Washington, D.C.
Mexico's rise to the top in U.S. trade relationships came sooner than experts predicted, he said.
Trade has grown between the two countries despite recent steel tariffs and political tension over migration, he said, though if tariffs have probably stifled potential growth somewhat.
But U.S.-China trade disputes have certainly played a role in clearing the way for Mexico, he said,and some U.S. importers have shifted to Mexican suppliers.
Still, the U.S.-Mexico trade relationship has been on an upward trend for more than a decade, he said.
Arizona's economy has also depended on trade with Mexico for years, said Glenn Hamer, head of the Arizona Chamber of Commerce and Industry.
"Every month of every year going back many, many years, Mexico is Arizona's top trading partner," he said. "What we're seeing nationally, this is the case in Arizona every day of the year," he said.
Arizona Gov. Doug Ducey touted the strength of Arizona-Mexico trade ties during his International State of the State address hosted by the Phoenix Committee on Foreign Relations Tuesday. Trade between Arizona and Mexico increased 7.7 percent in 2018.
Now, growing national numbers help underscore the importance of the U.S.-Mexico trade relationship for the rest of the country, too, Hamer said, adding that it's vital "for the United States Congress to rapidly pass the USMCA, the new trade deal with Mexico and Canada to see a renegotiated North American trade agreement."
If the United States, Canada and Mexico pass the USMCA agreement, he said, it will increase trade even more.
"We're going to see even more trade between the three countries, and the bottom line to that for Arizonans, that's going to mean more prosperity, more opportunity and more jobs," he said.
Wood with the Mexico Institute agreed that the future of U.S.-Mexico trade hinges on ratifying a new trade agreement.
"Although everything looks rosy right now, I think there are a number of potential problems in the trading relationship," he said, including complications with the USMCA and potential political clashes down the road over migration.
"We all thought that at a certain point the political problems in the relationship would spill over some into trade," he said. "And that could still happen."