This is part two of Arizona Public Media's five-part series, The Controversy over Cannabis, airing July 11-15 on NPR 89.1FM/1550AM.
"The Global War on Drugs has failed."
That's according to a June 1st report from the independent Global Commission on Drug Policy. One of the Commission's top recommendations? Legalize marijuana.

As it turns out, a retired optometrist in Tucson was already saying the same thing. Michigan native Stuart Green is spearheading Sensible Tucson. It's an effort to get the City of Tucson to decriminalize the possession of up to two-and-a-half ounces of marijuana for personal use.
"I believe any adult 18 years or older should be able to make the decision on whether or not they want to use it medicinally, they want to use it recreationally, they want to have a party with their friends---I don't care what they want to do with it, I don't want people arrested for small amounts," he says.
After the big victory on Proposition 203, Arizona's medical marijuana law, Green and his business partner, Michelle Graye, decided to keep up the pro-cannabis momentum in Southern Arizona. So they drafted a City ballot initiative to reduce the penalty for possession of small amounts of marijuana to $25. That's cheaper than a parking ticket.
"We believe this type of policy, which has also been adopted in Breckenridge, Colorado; Ypsilanti, Michigan; Ann Arbor, Michigan and other cities---they brought forth a sensible policy because they did not want people incarcerated for simple possession of 2.5 ounces or less," says Green.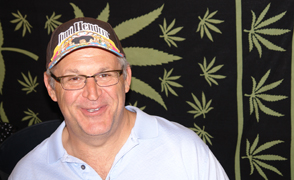 PHOTO: Laura Markowitz
Stuart Green is co-organizer of Sensible Tucson, an effort to decriminalize possession of small amounts of pot.
Pima County Attorney Barbara LaWall says low-level, nonviolent offenders who are arrested for a first or second violation are sent to diversion programs. That might be counseling or community service. It's only third-time offenders who can be sent to jail.
She feels strongly that legalizing marijuana is the wrong move.
"We've seen that the legalizing of alcohol has certainly not curbed alcohol abuse or drunk driving and we've got lots of social problems that arise from that," she says. "I'm not saying that alcohol needs to be outlawed again, but the fact that we did legalize it after it was illegal hasn't been the panacea that we'd like it to be."
If marijuana is decriminalized in Tucson, more people will likely use it, or use it more often. LaWall says her office already deals with crimes committed by offenders who were high on pot, and who are involved in car accidents while driving under the influence.
"Prohibitions on drugs help keep the prices higher; and higher prices keep the use rates relatively low," she says.
But Stuart Green is absolutely fine with the rates of pot smoking going way up. He's fine with the idea that Sensible Tucson might open the door to more recreational pot smoking.
"I have been a recreational user since 18," he says. "I completed my schooling. And I know many friends who are doctors, lawyers and people that are very high up in the government that use marijuana on a daily basis. We even have our presidents who have tried it before."
"To a certain population, it is not an issue," says Dave Bradley, head of La Paloma Family Services. He's a child welfare advocate. "They got through their teens using marijuana, got through college. They have good jobs. They made it. But they don't see who got left behind on this deal. And that some people suffered ill effects from which they never escaped."
Green argues that marijuana is less toxic and less dangerous than alcohol or tobacco. He wants it to have the same status – regulated, but legal. Bradley disagrees.
"It's certainly a valid argument that alcohol abuse is far more destructive because there's easier access," Bradley says. "The trouble is, do you add to the storm? Does that therefore follow that, gee, easier access to other things, whether it's marijuana or it's heroin or it's this or it's that---does that make sense? Does that add to the greater good? And I think it's naïve to think that would be the case."
The Arizona campaign to legalize medical marijuana cost $1 million, but Stuart Green and Michelle Graye only spent $500 on Sensible Tucson. That's probably a good thing, says City Attorney Mike Rankin, because no matter how many signatures they collect, Sensible Tucson won't ever make it onto the ballot.
State law can't be amended through a City initiative. Arizona Revised Statute 13-3405 establishes the criminal sanctions for possession, use, sale and transport of marijuana. Rankin's office notified Green and Graye in February, but they pressed on, optimistically.
On July 7th, the filing deadline, the City Clerk's office refused to accept their petition. After reading a section from the U.S. Constitution on the right to petition, Green said he would take their case directly to City Council next month. And if that fails, Green and Graye will launch their next campaign: state-wide Sensible Arizona.

Tune in tomorrow for Part Three of The Controversy over Cannabis: a trip to an illegal grow house that explores the problems of regulating licensed home growers.