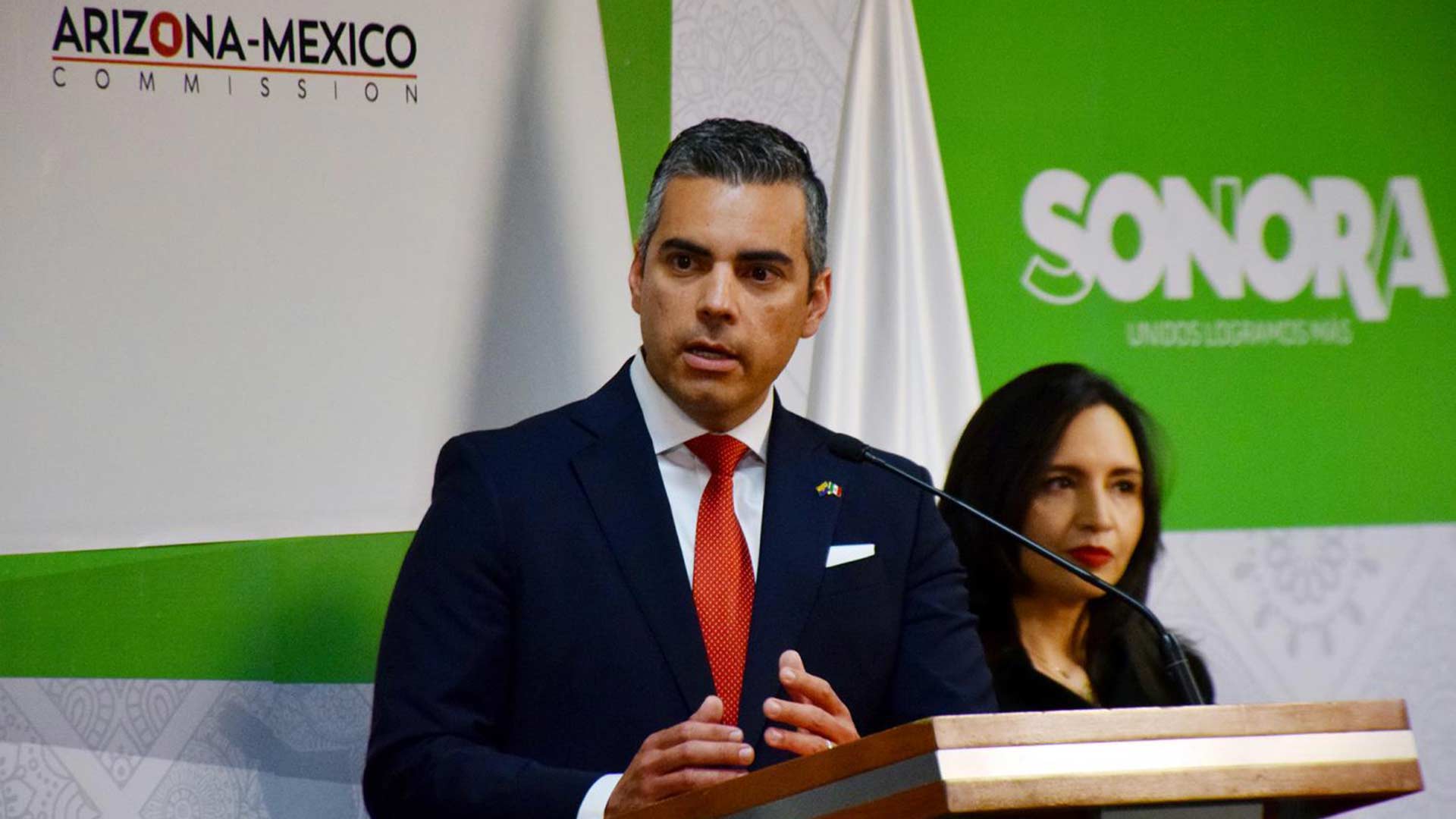 Juan Ciscomani talks about the Arizona-Mexico Commission's 60th Anniversary during a press conference in Hermosillo, Sonora, on April 29, 2019.
Kendal Blust/Fronteras Desk
HERMOSILLO, Mexico — The Arizona-Mexico Commission is celebrating its 60th anniversary this year, and leaders on both sides of the border in Arizona and neighboring Sonora, Mexico, say ties between the two states are stronger than ever.
The U.S. and Mexico have clashed over migration, a renegotiated North American Free Trade Agreement and border security. Just last week Mexico's foreign ministry sent a diplomatic note to the U.S. embassy expressing concern that delays at U.S. ports of entry were hurting trade.
But those tensions haven't dampen cross-border relationships between Arizona and Sonora, said Juan Ciscomani with the Arizona-Mexico Commission, speaking after a press conference in Hermosillo, Sonora Monday.
"What is happening out of Washington, D.C., is something that clearly impacts us," said Ciscomani, senior adviser for regional and international affairs to Arizona Gov. Doug Ducey. "The strategy has been, what do we have in common? Where can we win?"
The Arizona-Mexico Commission was created in 1959 to promote cross-border collaboration. Sixty years later, the two states still are working together, Ciscomani said.
"Mexico is Arizona's No. 1 trade partner times four," he said, adding that Arizona-Mexico trade grew 7.7 percent from 2017 to 2018.
Arizona and Sonora have made strides in attracting investments, promoting trade and building infrastructure that benefits both states, he said. And those collaborations are set to continue.
The Arizona-Mexico Commission is holding it's 60th Anniversary summit in Phoenix on June 26-28.