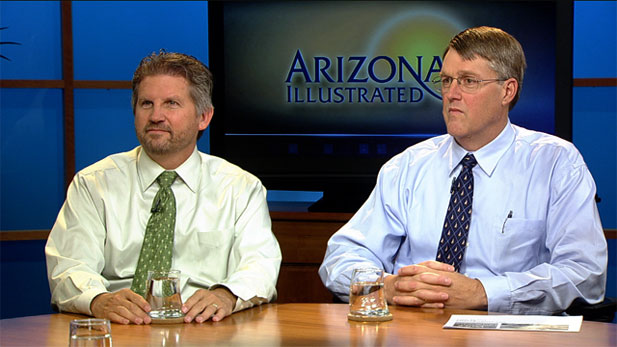 PHOTO: AZPM
Vail Community Action Board members David Hook and Rob Samuelsen discuss the community's division.
The Vail Community Action Board conducted an informal poll and found most people who live in the loosely-defined area want to incorporate into their own municipality. The results from the survey, however, also show that some parts of the community would rather keep its rural feel, and don't want to be part of a new city or town.
The community board is trying to figure out what the future of the area will look like amid this dichotomy of desires. It could mean some portions of the community southeast of Tucson incorporate, while others don't.
Vail Community Action Board members Rob Samuelsen and David Hook said there are lots of decisions ahead, and the board won't be making them without input from those who already live in the scenic — and developing — area.
The Vail Community Action Board will begin to talk about the next steps at a meeting this week. But Samuelsen and Hook said in an interview it will be a long process, no matter what's next.